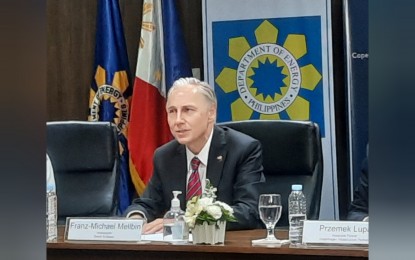 MANILA – With the growing interest of foreign companies to invest in the Philippines' wind energy sector, Danish Ambassador to the Philippines Franz-Michael Mellbin has urged the Department of Energy (DOE) to develop policy that will ensure the availability of Filipino talents in this sector.
In a statement of the Danish Embassy in Manila late Monday evening, Mellbin underscored the opportunity for the Philippines to be a regional training hub because of the Filipinos' English proficiency and being a highly globalized workforce.
The envoy said the DOE should craft a policy on developing pool of skilled workers for the wind industry.
Last April 24 to 28, DOE Secretary Raphael Lotilla led a Philippine delegation to Denmark focusing on wind energy cooperation.
This is after the DOE awarded three service contracts to Danish firm Copenhagen Infrastructure New Markets Fund (CINMF) to develop offshore wind power projects in the country worth USD5 billion.
"The visit also showed international interest for supporting the education of Filipino technicians for renewable energy jobs in the Philippines and internationally —where they could play a key role in making the global energy transition possible," Mellbin added.
Lotilla also met with Danish Permanent Secretary of State for Climate, Energy and Utilities during his visit in Denmark last week. The two officials agreed to work on a possible memorandum of understanding on energy sector.
Denmark is one of the global leaders in renewable energy and among the lead providers of technologies to help in climate change mitigation.
In less than a year of the Marcos administration, two Danish firms have invested in the Philippines for offshore wind projects.
These are the CINMF, which is the first fully foreign-owned company that invested in the country's renewable energy sector, and the Copenhagen Energy. Their combined offshore wind capacity is at 6 gigawatts. (PNA)