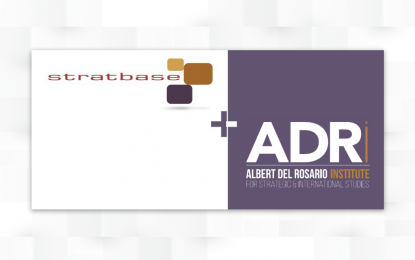 MANILA – The Philippines needs to shift to investment-led growth in order sustain the country's economic gains and promote inclusive growth, according to an independent research organization.
In a virtual forum on Tuesday, Stratbase ADR Institute president Dindo Manhit said the Philippine gross domestic product (GDP) has been driven by consumption, but an investment-led growth can address the perennial economic challenges such as joblessness and underemployment, high inflation, and income security.
"I've always believed that we cannot drive our economy simply based on consumption alone. We, in Stratbase, believe that consumption also should have increased production, and the key to that is industrial growth, not only by domestic investors, but, now as you open up the economy, more by both domestic and foreign investors in the country," he said.
Investors in the manufacturing sector should also consider catering their output to huge Filipino market rather than focusing their production activities for the export market, Manhit added.
"The old thinking was that 'let's put to build on manufacturing sector to export.' But for us, we look at over 100 million Filipinos as consumers that drive economic growth," Manhit said.
He also stressed the domino effect of investing in the manufacturing sector that will increase the country's productivity, create high quality jobs, provide income and food security, enable the affordability of commodities, and spur economic spending.
"We believe we can sustain economic gains by being more focused on investment that will create jobs, that will provide better income and livelihood for people," Manhit said "We need to reinvigorate the manufacturing sector."
Priority industry clusters
Department of Trade and Industry (DTI) Undersecretary Rafaelita Aldaba earlier highlighted that the agency is promoting the Philippines to be an investment hub for these priority industry clusters - industrial, manufacturing, and transport; technology, media, and telecommunications; health and life science; and modern basic needs, resilient economy.
Aldaba said these industry clusters are also in line with the Marcos administration's medium-term economic development plan of creating higher-quality jobs for Filipinos.
She added that the government's new industrial policy focuses on implementing a science and technology and innovation-driven strategy that will boost the competitiveness of Philippine industries.
"[This] will create dynamic industry ecosystems that will provide the foundation for generating more and quality jobs and investments creating new products and services, and ensuring shared prosperity for all," Aldaba said. (PNA)