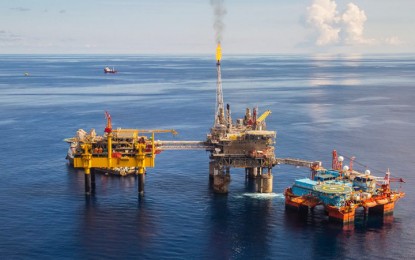 MANILA – The extension of the Malampaya natural gas field service contract will add at least USD600 million worth of investments for drilling two wells and subsea facilities, the Department of Energy (DOE) said Tuesday.
In a virtual press briefing, DOE Undersecretary Alessandro Sales said the SC 38 Consortium is looking at between USD80 million and USD90 million investment to drill one well.
Under the work program commitment for the first phase, the Consortium is required to drill at least two wells.
"In fact, in their submissions to us, they are indicating that they are prepared to drill for three wells... because it works out cheaper when they drill more wells," Sales said.
Aside from well drilling, he said the Consortium would need to spend another USD330 million to USD360 million for the tieback and subsea facilities.
These infrastructures would deliver the natural gas for production in the Malampaya facility, Sales explained.
He estimated the additional natural gas that would be produced by the Malampaya gas-to-power project given the extension of its contract would be about 200 billion cubic feet of gas.
Meanwhile, DOE Secretary Raphael Lotilla said his office would push for early exploration in Malampaya to keep the gas flowing and meet the country's rising energy requirement.
"We really want to start as soon as possible. We cannot wait for 2024 because it takes two to three years (or) three to four years to drill successfully and get the gas flowing. When we start only in 2024, what is going to happen? We would have lost a lot of time," Lotilla said.
On Monday, President Ferdinand R. Marcos Jr. signed the Renewal Agreement for the Malampaya Service Contact No. 38 (SC 38) for a final 15 years, or until Feb. 22, 2039.
The gas-to-power project is energizing 20 percent of Luzon's electricity requirement.
Since it began its operation, Malampaya has turned over PHP374 billion in royalties to the national government, with shares of PHP26 billion in 2022. (PNA)