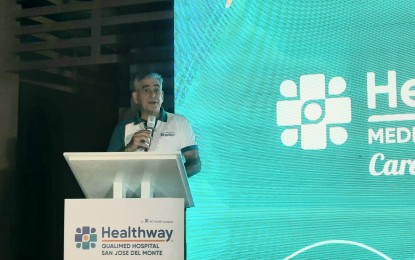 CITY OF SAN JOSE DEL MONTE, Bulacan – AC Health, Ayala Corp.'s health care unit, is interested to participate in the Marcos administration's first public-private partnership (PPP) project, the PHP6 billion University of the Philippines' Philippine General Hospital (UP-PGH) Cancer Center.
AC Health president and chief executive officer Paolo Borromeo told reporters Tuesday evening that part of the company's expansion is to participate in the government's PPP projects in the health care sector.
"We're also keen to explore the public-private partnership proposal that they are releasing for the (PGH) cancer hospital. I think that's a PHP6.5 billion project, the first of this administration's PPP projects, and we are looking to participating in that project," Borromeo said on the sidelines of its hospital rebranding in this city.
In February, the National Economic and Development Authority (NEDA) Board, chaired by President Ferdinand R. Marcos Jr., approved the construction of the 300-bed UP-PGH Cancer Center.
Half of the bed capacity will be dedicated to underprivileged Filipinos, providing them with advanced, integrated, and affordable oncology care services.
AC Health and PGH are already partners as the former's ambulatory surgery center, QualiMed Manila, is located at the UP-PGH Faculty Medical Arts Building (FMAB), where PGH doctors can do their private practice in QualiMed's facility.

Rebranding
AC Health is now putting its hospitals and clinics under one roof, the Healthway Medical Network (HMN).
Part of this initiative is rebranding its QualiMed brand hospitals as Healthway.
The QualiMed Hospital in this city is the second facility that was rebranded to Healthway QualiMed Hospital San Jose Del Monte. The first was QualiMed Hospital in Sta. Rosa, Laguna.
HMN currently has five hospitals, 17 multi-specialty clinics, and more than 200 corporate clinics.

Expansion
Borromeo said AC Health aims to increase its footprint across the country through "greenfield and brownfield" projects.
However, he declined to disclose the number of hospitals and clinics it would build and acquire in the coming years.
For this year, Borromeo said, AC Health would open Healthway Cancer Care Hospital in Taguig City in September.
It will also open three new clinics in Cebu, Cagayan de Oro, and Davao, as well as two tourist wellness centers in El Nido and Boracay.
Ayala Corp. chairman Jaime Augusto Zobel de Ayala said the company is steadfast in delivering excellent "care beyond cure" through its AC Health's facilities and professionals.
"Let's continue to work together, pushing the boundaries of health care to ensure the well-being of every Filipino and contribute to the prosperity, health, and progress of our nation," he added. (PNA)