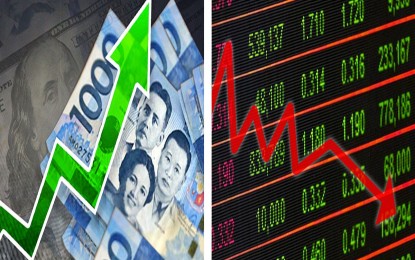 MANILA – The local bourse's main index fell Tuesday as investors await updates on the United States' debt ceiling talks while the peso corrected after Fitch Ratings changed its outlook on the Philippines' investment grade rating from negative to stable.
The Philippine Stock Exchange index (PSEi) slipped by 0.26 percent, or 17.27 points, to 6,603.56 points.
It was trailed by most of the other counters, with All Shares down by 0.19 percent, or 6.61 points, to 3,527.42 points.
Industrial registered the biggest drop among the sectoral gauges after it declined by 0.64 percent.
It was followed by Mining and Oil, 0.57 percent; Services, 0.33 percent; Holding Firms, 0.29 percent; and Financials, 0.27 percent.
Only the Property index gained during the day after it rose by 0.40 percent.
Volume reached 1.16 billion shares amounting to PHP6.04 billion.
Decliners led advancers at 105 to 80 while 44 shares were unchanged.
Luis Limlingan, Regina Capital Development Corporation (RCDC) head of sales, said the PSEi slipped "as the Wall Street awaits a pivotal debt ceiling meeting", referring to the negotiations between the White House and US lawmakers regarding the proposal to raise the debt ceiling.
He said prices of spot gold and US' gold futures declined by 0.1 percent and 0.2 percent, respectively, due to hawkish comments from some Federal Reserve officials.
On the other hand, oil futures rose "amid the rise in US gasoline futures and forecasts for oil demand to accelerate in the second half of 2023."
Brent crude oil prices inched up by 0.5 percent to USD75.99 per barrel and the West Texas Intermediate (WTI) by 0.6 percent to USD71.99 per barrel.
Meanwhile, the local currency ended the day at 55.725 from the previous day's 55.82 close against the US dollar.
Rizal Commercial Banking Corporation (RCBC) chief economist Michael Ricafort attributed its strengthening partly to the positive ratings action by Fitch Ratings on the Philippines 'BBB' credit rating.
The debt rater traced its decision to the robust recovery of the domestic economy after the pandemic, the strong external payments position of the country, and the government's sound economic policy framework.
For the day, the peso started the trade at 55.7 and it ranged between 55.75 and 55.57. The average level stood at 55.671.
Volume rose to USD1.19 billion from the previous day's USD981.5 million.
Ricafort forecasts the peso to trade between 55.60 and 55.80 on Wednesday. (PNA)