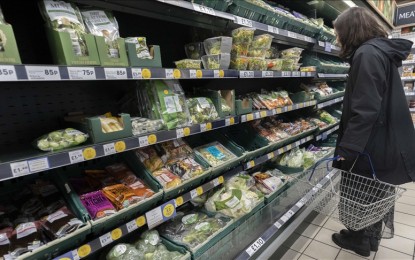 MANILA – Headline inflation will likely decelerate to 6.1 percent in May due to lower prices of food, an economist said Friday.
"Some food prices already started to ease recently on better weather conditions that led to some increase in supply that helps in lowering food prices, after some storm damage in the latter part of 2022 up to early 2023, especially the shear line that hit some parts of the Visayas and Mindanao," Rizal Commercial Banking Corporation (RCBC) chief economist Michael Ricafort told the Philippine News Agency (PNA).
Inflation declined for the third consecutive month in April, settling at 6.6 percent from 7.6 percent in March.
According to Ricafort, prices of some agricultural commodities continued to correct lower.
He said the decline could be attributed to the limited importation of sugar and onions, the one-year extension of the reduced import tariffs on meat, rice, corn, coal, among others, as well as other non-monetary measures to help improve local supply and lower the prices of food and other agricultural products.
Ricafort said prices of other global commodity such as wheat, soybean, natural gas, coal, iron, steel, copper, nickel, also declined and could help ease inflationary pressures for the coming months.
"The anniversary of the local wage hikes, transport hikes, and second-round inflation effects starting June to July 2023 would quantitatively lead to further year-on-year deceleration of year-on-year inflation in the second half of 2023 due to much higher inflation base effects by then that could potentially lead to much slower inflation rate to as slow as 3% to 4% year-on-year levels by the latter part of 2023," Ricafort said.
The peso exchange rate currently at 55.20 levels, could also help reduce importation costs and support further rollback in local fuel pump prices and help ease overall inflation, he said.
Ricafort, however, said that offsetting risk factors that could lead to some pick up in prices and slow down the deceleration of inflation include higher electricity rates, higher water rates and the El Nino drought that could reduce agricultural production and supplies. (PNA)