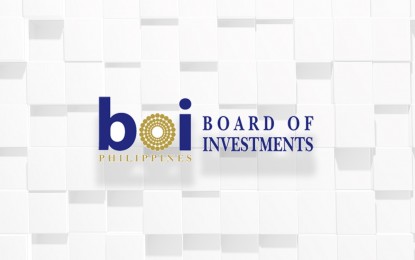 BALAMBAN, Cebu – The Board of Investments (BOI) is confident that its PHP1.5 trillion investment pledges target will be achieved this year.
In an interview over the weekend here, Trade Undersecretary and BOI managing head Ceferino Rodolfo said several big renewable energy (RE) projects are expected to be approved within the year.
"These renewable energy projects are really big, that's why we are confident that we will hit the PHP1.5 trillion [target]," he said.
"At least five RE projects are [expected to be approved]. At the very least, the average is around $2 billion per project. These are offshore wind and floating solar."
Rodolfo said most of the expected investments will be from foreign companies that have local partners.
For the first quarter of the year, BOI's investment approvals already amounted to PHP463.3 billion.
Majority of these were invested in RE, manufacturing, administrative services, transportation and storage and agriculture.
The BOI originally set the investments target this year to PHP1 trillion but due to the better-than-expected turnout in the first quarter, Rodolfo said President Ferdinand R. Marcos Jr. mandated the agency to raise the target to PHP1.5 trillion.
Rodolfo said the move to fully open the country's renewable energy sector to foreign ownership helped attract more foreign investments.
Last year, the Department of Justice said natural resources, such as solar, wind, hydro, and ocean or tidal energies, are not covered by constitutional limitations on foreign ownership.
"What we did was to allow 100 percent foreign equity in RE, including offshore wind. Before it was 60-40 so somehow, that hinders them from [entering in the country]," he said.
Aside from RE, Rodolfo said most of the investments that are in the pipeline will be invested in the telecommunications sector. (PNA)