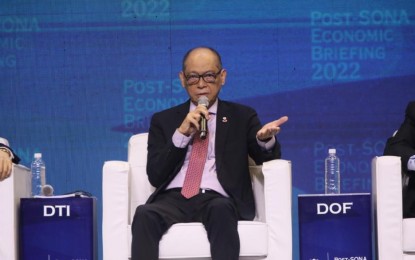 MANILA – The Department of Finance (DOF) said the implementation of the Comprehensive Tax Reform Program (CTRP) generated PHP202.8 billion additional revenues in 2022.
In a statement over the weekend, the DOF said the total collection last year was higher by 26.3 percent from PHP160.5 billion revenue in 2021.
Finance Secretary Benjamin Diokno said the higher collections was due to the "full economic recovery due to lifting of stringent quarantine measures" implemented at the height of the pandemic.
"The major gains in 2022 were seen in the imported petroleum excise tax, sweetened beverage excise tax, documentary stamp tax, and sin taxes on tobacco and alcohol," Diokno said.
DOF data showed that total collections from the Tax Reform for Acceleration and Inclusion Law amounted to PHP216.5 billion in 2022, up by 27 percent than the 2021 collection of PHP171 billion.
Collections from Package 1B or the Tax Amnesty Law went down by 69.6 percent from PHP4.6 billion in 2021 to PHP1.4 billion last year.
Total collections from Package 2+ or the Sin Tax Laws meanwhile amounted to PHP65.3 billion, 23 percent higher than the 2021 collection of PHP52.9 billion.
Revenue losses from the Corporate Recovery and Tax Incentives for Enterprises (CREATE) law reached PHP80.4 billion in 2022, up by 18 percent or PHP12.4 billion from the actual impact in 2021 of PHP68 billion.
In a separate statement, the DOF meanwhile said that the proposed tax revenue measures under the Medium Term Fiscal Framework (MTFF), will generate around PHP145.5 billion additional revenues from 2024 to 2028.
"The proposed tax revenue measures under the MTFF such as Package 4 or the Passive lncome and Financial lntermediary Taxation Act, VAT on digital service providers, and excise taxes on single-use plastics and pre-mixed alcohol are currently being deliberated and discussed at the House of Representatives and Senate, and expected to be implemented starting 2024," Diokno said.
Broken down, the government expects to collect PHP29.1 billion in 2024; PHP29.5 billion in 2025; PHP29.4 billion in 2026; PHP29.1 billion in 2027; and PHP28.5 billion in 2028.
"The MTFF is the administration's plan to promote fiscal sustainability and reduce the fiscal deficit while enabling economic growth," Diokno said. (PNA)