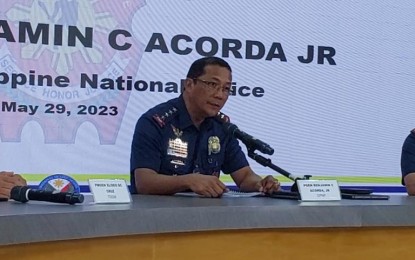 MANILA – The Philippine National Police on Monday (PNP) warned candidates for this year's Barangay and Sangguniang Kabataan Elections (BSKE) not to give in to the extortion demands of lawless elements such as the Communist Party of the Philippines-New People's Army (CPP-NPA).
PNP chief Gen. Benjamin Acorda Jr. is particularly referring to the direct payment by candidates to the communist rebels who carry out extortion activities via their "permit to campaign" and "permit to win" during polls.
"Let me caution candidates who will fall for this election racket of the CPP-NPA that any form of monetary or material support to the CPP-NPA, a terrorist organization, is tantamount to 'terrorist financing' that is punishable under Republic Act No. 11479 or the Anti-Terrorism Act of 2020. And if the donor or giver is an incumbent Barangay or SK official, the crime is further aggravated by willful disloyalty to their Oath of Office," Acorda told reporters during a press briefing held at Camp Crame, Quezon City.
Acorda, meanwhile, said they do not foresee serious security problems for the Oct. 30 polls.
"This early, we do not foresee any serious peace and order concerns on a national scale in the barangay and SK elections. The actions of some remaining active guerrilla fronts of the CPP-NPA are closely being monitored for possible conduct of atrocities," Acorda said.
The 90-day election period for the election of officials of some 42,022 barangays across the country will run from Aug. 28 to Nov. 29.
The country's top cop also urged candidates in this year's BSKE candidates and the public to coordinate with authorities for their security and safety.
"On the part of the persons of those who are affected there are procedures that can be adopted and they can avail of some of the exemptions being provided for by Comelec (Commission on Elections) like gun ban exemptions, they can avail of that and I think there was also a set date of the processing of these gun ban exemptions," he noted.
Acorda said they would also conduct threat assessments to determine if barangay officials would need a security detail.
According to the PNP's Police Security and Protection Group, officials can only have one police officer and one protective agent to secure them but this can be augmented based on the results of the threat assessment conducted by the PNP.
Acorda also urged candidates to undergo drug testing for them to be able to present to their constituents a "clean bill of health".
"This is a magnanimous manifestation of the individual candidate's support of the national anti-illegal drugs campaign and should be recognized by constituents as a personal display of leadership by example, especially among SK candidates who represent the youth sector," he said.
The COC filing period for the 2023 BSKE will be from Aug. 28 to Sept. 2. (PNA)