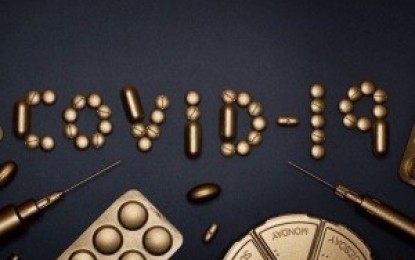 MANILA – The positivity rate or the number of people testing positive for the coronavirus disease 2019 (Covid-19) in the National Capital Region (NCR) has decreased to 22 percent as of May 27.
In a tweet on Monday, OCTA Research Group fellow Dr. Guido David said the figure was over a 3 percent decrease from the region's positivity rate of 25.7 percent from May 14 to 20.
The positivity rates also decreased in Batangas (30.9 percent from 36.1 percent), Bulacan (22.1 percent from 24 percent), Camarines Sur (43.1 percent from 47.9 percent), Cavite (30.2 percent from 34.3 percent), Isabela (46.4 percent from 67.4 percent), Laguna (29.1 percent from 35.7 percent), Rizal (30.8 percent from 36 percent), and Zambales (24.8 percent from 26.6 percent).
"Positivity rates remained high in most of Luzon," he said.
An increase in positivity rate was observed in Bataan (from 21.4 percent to 38.4 percent), Benguet (from 24.7 percent to 28.3 percent), Cagayan (from 21.6 percent to 27.6 percent), La Union (from 21.1 percent to 24.5 percent), Oriental Mindoro (from 33.3 percent to 55.6 percent), Palawan (from 22.8 percent to 29.8 percent), Pampanga (26.2 percent to 26.9 percent), Pangasinan (from 15.5 percent to 20.9 percent), Quezon (from 43.8 percent to 46.2 percent), Tarlac (from 15.4 percent to 21.2 percent). (PNA)