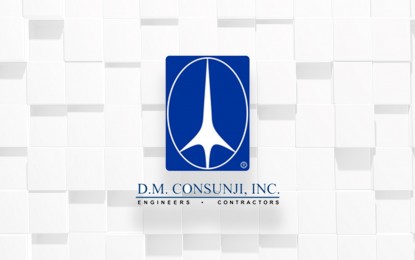 MANILA – Premier contractor D.M. Consunji Inc. (DMCI) is eyeing to participate in at least five more infrastructure projects under the "Build Better More" infrastructure program of the Marcos administration.
"Our participation would depend on the amount and type of work involved. We want to focus on projects where our core competencies can bring the most value for our country," DMCI president and chief executive officer Jorge Consunji told the Philippine News Agency in a Viber message.
Consunji did not identify yet these infrastructure projects.
DMCI was awarded last month the South Commuter Railway Project Contract Package 2, a joint venture with Acciona Construction Philippines.
Costing over PHP28 billion, the project involves the construction of railway tracks and stations in Manila along España, Sta. Mesa and Paco, and will take roughly 4.5 years to complete.
"DMCI is still waiting for the notice to proceed from the government," the company said.
Consunji said DMCI's participation in the joint venture is around 35 percent.
"In addition to construction revenues, we also expect to generate collateral business for our ready-mix concrete, equipment rental and steel fabrication units," he said.
The Nishimatsu-DMCI joint venture was also awarded last year the Metro Manila Subway Project (MMSP) Contract Package 102 (CP 102), and a groundbreaking ceremony was held last April 28.
The package consists of two underground subway stations—Quezon Avenue Station and East Avenue Station—and tunnels connecting North Avenue to the East Avenue station.
Based on the project design, Consunji said it would take around six years to complete the MMSP CP 102.
He said the construction of South Commuter Railway Project Contract Package 2 and MMSP CP 102 is expected to generate around 2,000 jobs.
DMCI reported to the local bourse its order book reached PHP42.4 billion in January to March period this year from PHP35.2 billion in the fourth quarter of 2022 amid signs of demand recovery.
It attributed mainly the 20-percent increase in order book during the period to the awarding of the South Commuter Railway Project Contract Package 2.
Other projects in its order book include the Dinapigue Causeway expansion, Xavier Junior High School Building, YCO Manila site early works and dredging, and hauling of lagoon in the La Mesa Water treatment plant.
Year-on-year, the DMCI order book declined by 9 percent from PHP46.7 billion owing to the completion of several projects and descoping of the North South Commuter Rail (NSCR) Contract Package 01, a joint venture with Taisei Corporation of Japan. (PNA)