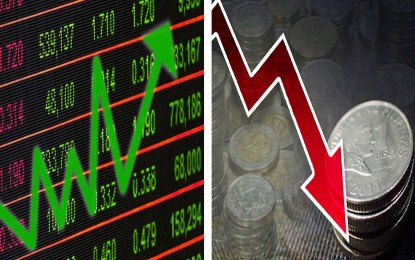 MANILA – Optimism that a United States government's debt ceiling deal will eventually materialize this week boosted sentiments in the local bourse and allowed the main index to rise but the peso weakened.
The Philippine Stock Exchange index (PSEi) started the week up by 0.96 percent, or 62.96 points, rising to 6,593.16 points.
All the other counters trailed the main gauge, with All Shares up by 0.64 percent, or 22.33 points, to 3,510.41 points.
Services led the sectoral indices after it inched up by 1.82 percent and was trailed by Property, 0.96 percent; Mining and Oil, 0.93 percent; Financials, 0.69 percent; Holding Firms, 0.50 percent; and Industrial, 0.36 percent.
Volume reached 599.74 million shares amounting to PHP3.29 billion.
Advancers led decliners at 93 to 80 while 43 shares were unchanged.
Luis Limlingan, Regina Capital Development Corporation (RCDC) head of sales, said the positive sentiments allowed the main index to regain its footing from a sell-off earlier in the day.
"This may perhaps be in line with the optimism that lawmakers will reach a deal to raise the US debt ceiling," he said.
He added that positive expectations on the debt ceiling talks have resulted in the rise in spot gold prices in the international market, up by 0.35 percent to USD1,947.09 per oz., as well as in global oil prices, with the Brent crude futures increasing by 0.9 percent to USD76.95 per barrel.
Meanwhile, the peso weakened to 56.12 to a US dollar compared to its 55.79 close last Friday.
It opened the week's trading session at 55.85, an improvement from the 56.03 start in the previous session, and ranged to 56.15.
The local currency did not move past its opening level and even dipped to 56.15 mid-trade, resulting in an average of 55.986 for the day.
Volume rose to USD1.11 billion from USD986.2 million at the end of last week.
Rizal Commercial Banking Corporation (RCBC) chief economist Michael Ricafort attributed the peso's depreciation to possible cut in domestic banks' reserve requirement ratio (RRR) next month, improvement of the gauge of the US dollar against other currencies, higher US Treasury yields, and hawkish signals from some Federal Reserve officials.
He said market sentiments were also supported by news reports saying that US President Joe Biden and US House Speaker Kevin McCarthy have made a tentative agreement on the US debt limit over the weekend, with a vote expected in the middle of this week.
For Tuesday, the currency pair is projected to trade between 56.05 and 56.25. (PNA)