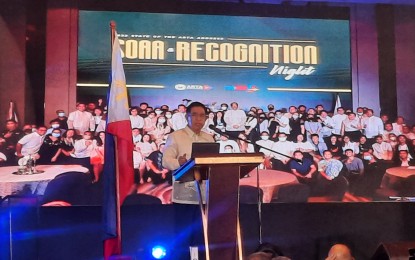 MANILA – Anti-Red Tape Authority (ARTA) Director General Ernesto Perez said the agency, along with the National Economic and Development Authority (NEDA) and the Department of Information and Communications Technology (DICT), will issue a joint memorandum circular (JMC) to expedite and prioritize issuance of permits, licenses, clearances and authorizations required for the Marcos administration's 194 infrastructure flagship projects.
In his speech during ARTA's 5th anniversary at the Manila Hotel on Monday, Perez said the JMC will ensure that the infrastructure flagship projects of the administration will proceed smoothly without unnecessary bureaucratic delays.
"This will help eliminate unnecessary red tape and accelerate the progress of these infrastructure initiatives," he said.
On the sidelines of the event, Perez said ARTA, NEDA and DICT aim to release the JMC before the State of the Nation Address of President Ferdinand R. Marcos Jr.
The NEDA Board, chaired by Marcos, approved last March the 194 high-impact physical and digital infrastructure projects worth PHP9 trillion.
Marcos also expressed his administration's appetite for a public-private partnership (PPP) structure to implement these infrastructure flagship projects, as the private sector has the financial capacity, as well as technology and management expertise.
Perez underscored the need to facilitate these projects to address challenges in road and transport infrastructure, internet connectivity, utilities and other essential infrastructure.
These projects aim to provide more opportunities for Filipinos by attracting investments from the private sector, generating jobs and enhancing local industries. (PNA)