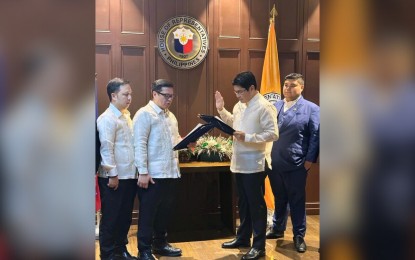 MANILA – Broadcaster Erwin Tulfo is now the newest member of the House of Representatives, representing the Anti-Crime and Terrorism Community Involvement and Support (ACT-CIS) party-list as fourth nominee.
Tulfo took his oath of office on Tuesday, automatically replacing outgoing Representative Jeffrey Soriano, the third nominee of ACT-CIS, as provided under Section 16 of the Republic Act 7491.
The former Department of Social Welfare and Development secretary's appointment came following the dismissal of a disqualification case against him on May 25, 2023.
As fourth nominee submitted by the party-list to Commission on Elections, Tulfo is entitled to assume the seat vacated by Soriano with an unexpired term. Soriano resigned in February.
"As I assume this role, I am mindful of the immense responsibility that comes with it. I vow to work tirelessly to uphold the interests of my constituents and to contribute to the legislative agenda of the House. I will do my best to honor the trust that has been placed upon me and to serve the Filipino people with utmost dedication and integrity," Tulfo said.
House Majority Floor Leader Manuel Jose M. Dalipe presided over Tulfo's oath-taking ceremony, congratulating him on his new role and acknowledging his extensive experience in public service.
Tulfo expressed his gratitude for the opportunity to serve as a representative of the people, promising to work tirelessly to uphold the interests of his constituents and contribute to the legislative agenda of the House.
He promised to use his experience as former government official and journalist to address issues affecting the country.
In a letter to the House of Representatives on Wednesday, the Comelec confirmed that Tulfo is the next nominee from the list submitted by the ACT-CIS to the poll body.
However, there is still a pending motion for reconsideration (MR) to junk the disqualification case against Tulfo.
"On the part of the Comelec, the MR was just recently elevated to the en banc. It will be raffled and will be decided immediately," Comelec chairperson George Erwin Garcia told reporters in an earlier Viber message.
On the motion filed on Monday, the petitioner sought the reversal of Comelec's decision due to concerns about Tulfo's citizenship and conviction in a libel case.
Tulfo said he was informed that there shall be limitations in his function considering the need to resolve the pending MR.
"I was informed by the House leadership, yes you can assume as the third member of the ACT-CIS party-list, yes you're a member of Congress, but there will be limitations... You cannot vote at this point, you cannot attend muna (for the meantime) sessions and committee hearings," Tulfo said in an interview. (PNA)