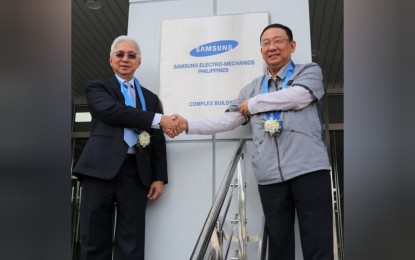 MANILA – Department of Trade and Industry (DTI) Secretary Alfredo Pascual said on Wednesday investments of Samsung Electro-Mechanics Philippines Corporation (SEMPHIL) in the country has surpassed USD25 billion.
In his message during the ribbon-cutting ceremony of SEMPHIL complex building in Calamba, Laguna Wednesday, Pascual said the South Korean manufacturer's investments in the Philippines has contributed to the domestic economy and the development of industries.
He said SEMPHIL has shared USD80 million in exports and created jobs of nearly 7,000 as of January 2023.
The company established its business in Calamba in July 1997 manufacturing multi-layer ceramic capacitors, tantalum capacitors, inductors and thick film chip resistors which are used in electronic gadgets.
Its facility is located in the Calamba Premiere International Park-Special Economic Zone, which is home to 126 export manufacturing firms with aggregate investments amounting to PHP54 billion, exports of USD350 million, and employing 18,000 personnel as of March 2023.
According to DTI, there are 244 South Korean locators in Philippine Economic Zone Authority (PEZA) zones across the country.
Their total investments reached PHP90 billion, contributing USD130 million in export revenues and 40,000 people in their workforce as of January this year.
"South Korea ranks among PEZA's top five investing nations. With the Regional Comprehensive Economic Partnership taking into effect on June 2, I am confident that this standing may be enhanced. Surely, SEMPHIL and other investors can capitalize on the incentives offered by RCEP and our CREATE (Corporate Recovery and Tax Incentives for Enterprises) Law," Pascual added.
Meanwhile, the new complex building will serve as SEMPHIL's office for communication and collaboration, training area for new and existing employees and a facility for its employees for their physical and mental well-being. (PNA)