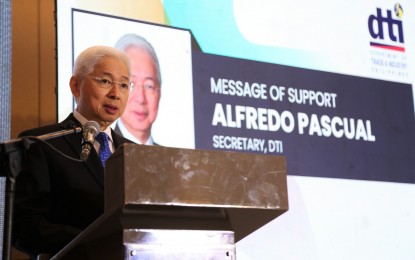 MANILA – The Regional Comprehensive Economic Partnership (RCEP) has finally entered into force in the Philippines on Friday, over two years since participating countries concluded the free trade deal in November 2020.
The Department of Trade and Industry (DTI), the country's lead agency during the RCEP negotiations, urged Philippine enterprises to make the most of the new free trade agreement (FTA) of the country.
"RCEP has a big promise to the country in terms of being able to expand our trade with our partners in RCEP," Trade Secretary Alfredo Pascual told the Philippine News Agency (PNA) on the sidelines of a forum in Taguig City Thursday.
Pascual said his office would be active in promoting to Philippine-based enterprises, particularly the small and medium enterprises (SMEs), the benefits available to them under RCEP.
"I enjoin, I encourage, I ask our Philippines businesses to make full use of the potential gains in RCEP," he added.
RCEP would also allow Filipino SMEs to be integrated in the global value chain, and trade with 14 other countries at lower or zero tariff rates, he said.
RCEP took effect in the country 60 days since the Philippine government deposited the instrument of ratification with the ASEAN Secretary-General last April 3.
This, as the Senate concurred with RCEP ratification last Feb. 21.
The Philippines is the last country among 15 RCEP members that implemented the FTA amid concerns particularly aired by players in the agriculture sector.
Earlier, Pascual emphasized that RCEP would not lead to an influx of imported agricultural products.
The Executive Order (EO) implementing the RCEP commitments has maintained preferential tariffs of 98.1 percent of the 1,718 agricultural tariff lines.
On the other hand, 82.7 percent of the 8,102 industrial tariff lines do not have any changes.
The EO also noted that there are only 105 agricultural tariff lines in the pipeline that will have adjustments in tariff rates, but only after 20 years since the RCEP was implemented.
RCEP is composed of the 10 ASEAN countries, including the Philippines, and its FTA partners such as China, Japan, South Korea, Australia and New Zealand.
The region accounts for one-third of the world's population and economy. RCEP is currently the largest free trade deal in the world. (PNA)