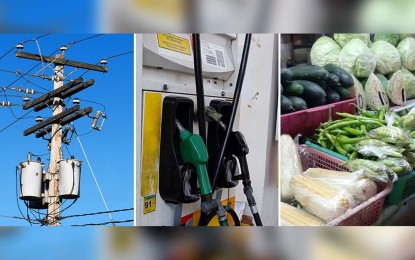 MANILA – The outlook for the domestic bond and equities market looks bright if the domestic inflation rate sustains its deceleration, executives of Manulife Investment Management (IM) and Trust Corp. Philippines said Thursday.

In a commentary, Manulife IM Philippines head of fixed income Jean de Castro said a further slowdown in the rate of price increases in April to 6.6 percent from 7.6 percent the previous month affirms "that inflation may have already peaked for the Philippines."

She cited the likelihood that negative base effects in the succeeding months would "significantly result in slower inflation data in line with the BSP (Bangko Sentral ng Pilipinas) inflation forecast for May."

"Looking ahead to 4Q (fourth quarter), local inflation can be expected to fall within the BSP's 2 (percent) to 4 percent target range, barring any sharp increases in global oil prices. The moderating inflation environment coupled with the pause in monetary policy actions supports the positive local bond outlook for the second half of 2023," she added.

Inflation rate posted a slower annual rate for the third consecutive month in April after hitting a 14-year high of 8.7 percent in January.

This is the reason for the cut in the central bank's average inflation forecast for this year from 6 percent to 5.5 percent and the expectations that monthly figures would return to within the government's 2 percent to 4 percent target band starting in the last quarter of this year.

For May this year, the BSP forecasts inflation to stay within 5.8 percent to 6.6 percent.
Manulife IM Philippines head of equities Mark Canizares said "moderating inflation should be able to provide support to local share prices going into the second half of the year."

"Rate-sensitive sectors, such as residential property, will likely benefit from this tailwind," he said.

Canizares said domestic consumption continues to improve as the economy has fully reopened.

This, he said, is boosted by the easing of prices "as raw material and other input costs moderate."

"Should the trend of deceleration continue in the second half, the local market's focus will likely shift to when interest rates will peak and eventually decline," he said, adding that "lower rates historically help drive a rally in equity markets."

The deceleration of the inflation rate is among the factors on local monetary authorities' decision to keep the BSP's key rates steady last month, after hiking it by a total of 425 basis points since May 2022.

Some economists forecast the BSP to maintain its current stance unless inflation reverses its path. (PNA)