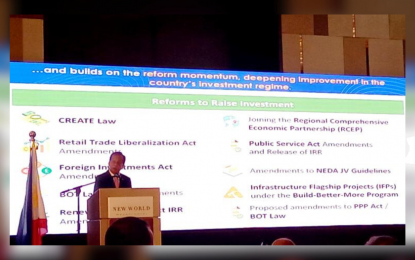 MANILA – Bilateral trade between the Philippines and Israel is expected to hit USD1 billion by 2024 to be driven by investments on agriculture, water management and tourism.
Yael Ravia-Zadok, head of the Economic Affairs Division at the Israel Ministry of Foreign Affairs, expressed optimism about increase in trade between the two countries at the sidelines of the Philippines-Israel economic briefing in Makati City on Monday.
"Last year, we're able to cross almost half a billion-dollar trade and we think that the potential is far higher…," she said.
To boost trade, Ravia-Zadok said they want to increase tourism from Israel to the Philippines and vice versa, initially with the help of the former's agreement with Saudi Arabia and Oman which allowed shorter travel time from the Middle East to Southeast Asia.
"So we are closer to each other and definitely would like to see in the coming future direct flight from Israel to Manila and Manila to Israel. That would support trade, support business, and it will support tourism," she said.
Ravia-Zadok said other areas of cooperation include water management, food security and renewable energy.
"This visit launched a new phase, not only on diplomatic relations but also economic relations. And I'm confident that with the business-to-business meetings, we will see trade growing," she said, adding that "we'll have many more delegations that will visit each other (and this) will see increase in bilateral trade."
National Economic and Development Authority (NEDA) Secretary Arsenio Balisacan told reporters they have presented the government's 194 infrastructure flagship projects worth PHP8.3 trillion that are in various stages of implementation to the Israeli business delegation.
Balisacan said the visit of Israel Foreign Affairs Minister Eli Cohen and representatives of the various firms from the Middle Eastern country opened more opportunities and provided stronger ties, citing that to date, foreign direct investments (FDIs) from Israel is small.
He cited the Philippines agriculture sector, specifically on water-related technology, tourism and information and communication technology (ICT), as the main drivers of the possible increased cooperation and trade and investments between the two countries.
Citing a presentation during the event, Balisacan said around 70 percent of Israel's domestic water is desalinized to ensure that it can be safe for drinking and food-use.
In the case of the Philippines, while the country has abundant water sources, there is lack of technology, processes and management to harvest water and safely store it, he said, stressing the fact that this is where the cooperation with Israel will play an important part.
"We really need best practices that is appropriate for us," he said. (PNA)