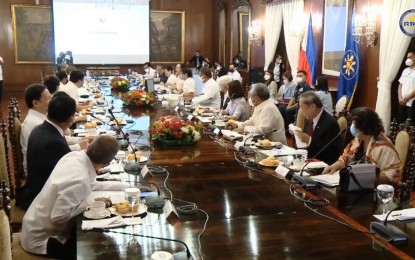 MANILA – The wealth of experience and knowledge of Gilberto Teodoro Jr. as Defense secretary and Dr. Teodoro Herbosa as Health chief are welcome additions to President Ferdinand R. Marcos Jr.'s Cabinet.
Their appointments also mean that the President is bent on finding the best and the brightest to serve the people, Speaker Martin Romualdez said in a statement on Tuesday
Teodoro was also the Department of National Defense (DND) secretary from 2007 to 2009 under the administration of Gloria Macapagal-Arroyo and was Tarlac First District congressman from 1998 until before he assumed the Defense post.
Meanwhile, Herbosa once served as the Department of Health (DOH) undersecretary and was a Philippine General Hospital official for many years.
"I think that most importantly, they will bring a civilian perspective to the defense and health sectors," Romualdez said.
In separate statements, House leaders and members also welcomed the appointments of Teodoro and Herbosa.
Deputy Speaker and Bagong Henerasyon Party-list Rep. Bernadette Herrera said Teodoro's appointment is a testament to his remarkable leadership skills and deep understanding of national security.
"Sec. Gibo's invaluable experience as a former Defense secretary has equipped him with the necessary insights to navigate the complex challenges faced by our armed forces. Under his guidance, we are confident that the DND will continue to uphold our nation's sovereignty, strengthen our defense capabilities, and ensure the safety and security of our people," she said.
Meanwhile, she wished Herbosa well as being DOH secretary is both pivotal and strategic, coming at a time when the world is phasing out of the pandemic.
"The position requires the expertise and compassion of a doctor, the balance of a visionary manager, and the dexterity and focus of a negotiator. It would seem we need a superhero for Secretary of Health," Herrera said.
Iloilo 5th District Rep. Raul Tupas commended President Marcos for naming Teodoro to the Defense portfolio.
"With Sec. Gibo's extensive experience in leadership and legislation, and expertise in legal and administrative aspects, I am confident that the defense and security of our nation are in good hands," the chair of the House Committee on National Defense and Security said.
Barangay Health Wellness Party-[list Rep. Angelica Natasha Co, meanwhile, said Herbosa brings to the DOH a long career devoted to healing people, caring for communities, and working with stakeholders of the health sector.
Co, chair of the Committee on Welfare of Children, said Herbosa's credentials, reputation for producing effective results, and diplomatic character are all essential to navigating the many issues and challenges facing the DOH.
Iloilo 1st District Rep. Janette Garin, herself a former DOH chief, wished Herbosa "all the luck and the perseverance to deliver for our people."
"What the DOH needs now is a manager that can steward the fast delivery of services to our people. This, coupled with timely rebuttal of infodemics or fake medical news can empower the Filipino people and help achieve what is best for all of us: a country delivering for its people," she said. (PNA)