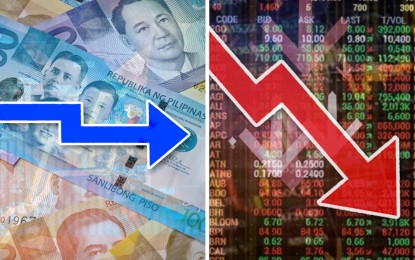 MANILA – The deceleration of inflation rate to 6.1 percent in May 2023 from 6.6 percent the previous month came within expectations but failed to lift the local bourse's main index on Tuesday.

The Philippine Stock Exchange index (PSEi) shed 0.64 percent, or 41.71 points, to 6,479.93 points.

All Shares followed with a decline of 0.48 percent, or 16.86 points, to 3,469.47 points.

Most of the sectoral gauges also ended the day in the negative territory, led by Holding Firms after it slipped by 1.32 percent.

It was trailed by Industrial, 0.90 percent; Financials, 0.76 percent; and Services, 0.09 percent.

On the other hand, Property rose by 0.93 percent and Mining and Oil by 0.13 percent.

Volume reached 1.8 billion shares amounting to PHP3.88 billion.

Decliners led advancers at 109 to 70 while 49 shares were unchanged.

Luis Limlingan, Regina Capital Development Corporation (RCDC) head of sales, said "it was a sell on news session in the local market with inflation coming in line at 6.1 percent, right within market expectations."

"With little impetus locally, movements were mainly influenced regionally by the news that regulators are contemplating increasing capital requirements for large banks," he said.
Oil prices inched up after Saudi Arabia announced a move to reduce by a million its oil production per day starting in July.

Brent crude futures rose by 0.6 percent to USD76.57 per barrel and the West Texas Intermediate (WTI) by 0.4 percent to USD72.03 per barrel.

While the main equities index fell, the local currency kept is footing against the United States dollar and closed the day at 56.22 from previous day's 56.24.

It opened the day at 56.19, weaker than its 56.01 start on Monday.

It traded between 56.27 and 56.15, resulting in an average of 56.204.

Volume went down to USD917.45 million from the previous session's USD1.08 billion.

Rizal Commercial Banking Corporation (RCBC) chief economist Michael Ricafort traced the peso's performance to the within-expected May 2023 inflation rate, which was slower than the 6.6 percent last April.

"As a result, the markets are now anticipating a possible pause on Fed (Federal Reserve) rates on June 14, 2023 and also a pause on local policy rates on June 22, 2023," he said, referring to the respective rate setting meeting of the Federal Reserve's Federal Open Market Committee (FOMC) and the Bangko Sentral ng Pilipinas' (BSP) policy-making Monetary Board.

Ricafort said market players are also anticipating the cut in universal and commercial banks' (U/KBs) "reserve requirement ratio (RRR) as early as June 2023 to offset the expiry of regulatory relief measures by end-June 2023 and would infuse additional liquidity into the financial system."

The relief measures were implemented at the height of the pandemic and these involved accepting banks' lending to small and medium enterprises (SMEs) as compliance to the RRR.

Ricafort said a percentage point cut in RRR is expected to release about PHP130 billion into the economy, which is projected to increase excess liquidity in the financial system.

The excess liquidity is seen to be siphoned off by the newly announced 56-day BSP Bill, initial auction of which is set on June 30, 2023.

For Wednesday, the peso is seen to trade between 56.12 and 56.32 against the US dollar. (PNA)