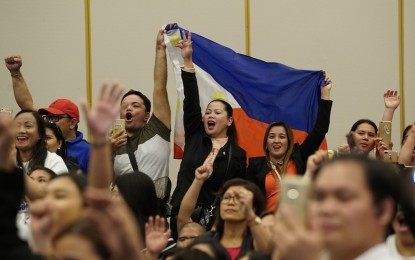 MANILA – As the nation celebrates National Migrant Workers' Day, a lawmaker on Wednesday recognized the overseas Filipino workers' (OFWs) invaluable contribution to the country's economic growth.
OFW Party-List Rep. Marissa "Del Mar" Magsino agreed with the Development Budget Coordinating Council (DBCC) that the Philippine economy would be in a worse situation if not for the OFWs' remittances, especially during the Covid-19 pandemic.
"Our OFW remittances are one of the pillars behind the nation's progress, with their tireless efforts and unwavering dedication resulting in USD36.136 billion personal remittances in 2022," she said in a statement.
Magsino said the OFWs' remittances last year were equivalent to 8.9 percent of the country's gross domestic product (GDP) and 8.4 percent of the gross national income (GNI).
During the DBCC briefing at the House of Representatives last February, both the House leaders and the government's economic managers agreed that the country's economy stayed afloat due to OFW remittances.
"Beyond the financial impact, OFW remittances alleviate poverty and improve living conditions for their families. Increased disposable income leads to higher consumption, driving economic growth," Magsino said.
"OFWs also fill labor market gaps, address skills shortages, and promote cultural exchange, fostering diversity in society," she added.
She, however, pointed out that the labor migration should be a free choice, not one forced upon the citizens because of the scarcity of decent livelihood opportunities in the country.
"Kaya't kailangan din natin tutukan ang mga polisiya na magbibigay ng full employment dito sa Pilipinas (So, we need to focus on policies that could provide full employment here in the Philippines," she added.
She also emphasized the need to address the common problems besetting the migrant workers such as illegal recruitment, human trafficking, employer abuse such as contract-switching and non-provision of mandated benefits, high placement fees and costs of other regulatory requirements, and false criminal charges and unlawful incarceration.
Magsino said labor migration should be fortified by policies, programs, systems and processes that would promote the welfare and protect the rights of OFWs.
"To our OFWs, we extend our deepest gratitude for your dedication and unwavering spirit. I assure you that you have a voice in the halls of Congress and an ardent champion in policymaking," she said.
As of 2021, there are about 1.83 million OFWs worldwide, according to the data released by the Philippine Statistics Authority in December last year.
Migrant Workers Day is celebrated every June 7 in commemoration of the signing into law of Republic Act 8042 or the Migrant Workers Act of 1995.
The law mandates the celebration of Migrant Workers Day in recognition of the valuable contributions of OFWs to the country. (PNA)