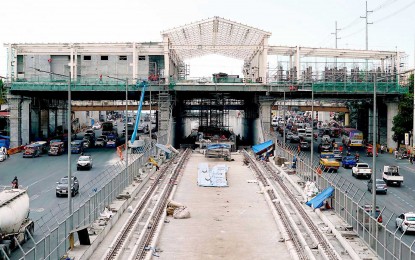 MANILA – The passage of the proposed Public-Private Partnership (PPP) Act and the Maharlika Investment Fund (MIF) Act of 2023 could help accelerate infrastructure spending to 10 to 12 percent of gross domestic product (GDP) as early as next year, Finance Secretary Benjamin Diokno said Wednesday.
"Our 5 to 6 percent infrastructure [spending target], that's just from the budget. If the PPP will push through plus the MIF, we might reach 10 to 12 percent [of GDP]," Diokno said on the sidelines of Franchise Asia Philippines 2023.
The proposed PPP Act provides a unified legal framework for all PPPs at the national and local levels, covering all types of PPP arrangements, including joint ventures and toll operations agreements, to create a stable and predictable environment for collaboration between the public and private sectors in infrastructure development, thereby reducing transaction costs and improving the ease of doing business.
The MIF, on the other hand, will be the country's first-ever sovereign wealth fund that will optimize national funds by generating returns to support the administration's economic goals.
The Fund will be invested in a wide range of assets, including foreign currencies, fixed-income instruments, domestic and foreign corporate bonds, joint ventures, mergers and acquisitions, real estate and high-impact infrastructure projects, and projects that contribute to the attainment of sustainable development.
The Congress recently approved the proposed bill. It is expected to be signed by President Ferdinand R. Marcos Jr. before his second State of the Nation Address next month.
"Most of the priority [infrastructure] projects are ready for feasibility study [while] some are in the detailed engineering phase so it [10 to 12 percent of GDP infrastructure spending] could be as early as next year," Diokno said.
Under the Development Budget Coordination Committee's (DBCC) medium-term fiscal program, the government intends to ramp up infrastructure spending to 5 to 6 percent of GDP.
For this year, the 5.3 percent of GDP target translates to about PHP1.2 trillion.
Infrastructure spending target for 2024 is PHP1.36 trillion, PHP1.45 trillion in 2025, PHP1.59 trillion in 2026, PHP1.88 trillion in 2027, and PHP2.28 trillion in 2028.
"We need that. There are 7,200 islands that we have to interconnect. We have to complete several airports, complete several ports, we have to interconnect provinces," Diokno said.
Meanwhile, Diokno reiterated that the Maharlika Investment Fund is "really going to be useful for us as another source of funding for our desire to boost infrastructure."
Asked to comment on the recent paper released by the University of the Philippines School of Economics (UPSE) expressing "grave concern" on the Maharlika bill, Diokno said, "I think they have to read first the Senate version."
"I think it is just...it will redound to a matter of trust. There are a lot of safeguards put in place. We went through a very thorough process," he said. "And my colleagues at the UPSE should respect the NEDA (National Economic and Development Authority). Most of them also came from NEDA." (PNA)