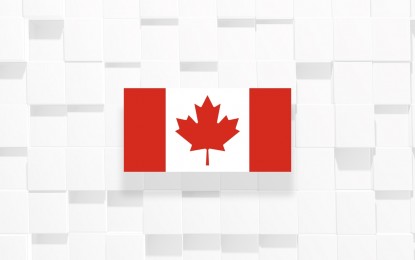 MANILA – The Canadian government announced on Thursday its decision to open an Indo-Pacific Agriculture and Agri-Food office in Manila, highlighting the important role the Philippines plays in its 2.3 billion Canadian dollars (PHP96 billion) Indo-Pacific Strategy (IPS).
The office will work hand in hand with the Canadian government to strengthen partnerships, advance technical cooperation, support Canadian exporters in finding new business opportunities, and help position Canada as a preferred supplier in the region.
"The Philippines is an important partner under the Indo-Pacific Strategy. Hosting this new office is an opportunity to build on our economic relationship, and enrich people-to-people ties," Canadian Minister of Agriculture and Agri-Food Marie-Claude Bibeau said in a news release issued by the Canadian Embassy.
"Our government will continue to help Canadian farmers, food processors, and exporters maximize their opportunities, and diversify their markets in the world's fastest-growing economic zone."
The Canadian Embassy in Manila said the office is a joint venture between Agriculture and Agri-Food Canada and the Canadian Food Inspection Agency. It will be established under Ottawa's IPS.
It will consist of a mobile team that will work directly with Canadian diplomatic missions, Canadian stakeholders, foreign interlocutors, and decision-makers in the region to advance mutual trade objectives for the sector.
In a statement, Dan Darling, president of the Canadian Agri-Food Trade Alliance (CAFTA), highlighted the Philippines' position as a growing trade partner for Canada and a key member of the Association of Southeast Asian Nations (ASEAN).
"Canada's agriculture and agri-food exporters have long called for an Indo-Pacific Strategy that would help us seize the many opportunities that exist in these dynamic and fast-growing markets," Darling said.
"We are keen to continue to work with the federal government to ensure this office helps agri-food exporters grow Canada's market share in the Indo-Pacific, which will strengthen critical people-to-people ties, create new jobs, support food security, and enable more opportunities in trade for Canadian agri-food businesses."
CAFTA represents 90 percent of Canadian farmers who depend on trade and ranchers, producers, processors, and agri-food exporters who seek better access to international markets.
In 2022, Canada's agriculture and agri-food exports to the Indo-Pacific region totaled 21.8 billion Canadian dollars.
Global agrifood and seafood imports into ASEAN markets have also increased by 177 percent from 72 billion Canadian dollars in 2012 to 200 billion Canadian dollars in 2022. (PNA)