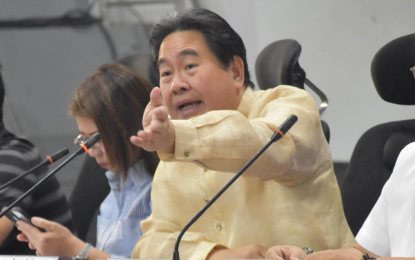 MANILA – Cagayan de Oro (2nd District) Rep. Rufus Rodriguez on Thursday urged China to order its Navy, Coast Guard and/or militia vessels to leave the Philippines' exclusive economic zone (EEZ).
The Mindanao lawmaker made this appeal following the departure of China's research ship Xiang Yang Hong 10 and its dozen escort vessels from Vietnam's waters early this week amid high-level talks between Chinese and United States officials in Beijing.
Vietnam had protested China's presence in its EEZ.
"I don't know what prompted the Chinese to leave Vietnam's territorial waters, whether it was the Vietnamese protest or the US-China talks. But whatever it was, if they left Vietnam's EEZ, they should also leave our exclusive economic zone," Rodriguez said.
He said no country, big or small, should assume the right to encroach on another nation's EEZ.
"The Chinese have no business staying in waters, shoals and islets that belong to us under international law," he said.
Last month, the Philippine Coast Guard reported that more than 100 Chinese Coast Guard and militia vessels remained in Ayungin Shoal and Juan Felipe Reef off Palawan.
Ayungin Shoal is where the Philippines maintains a small platoon of soldiers as a symbol of the country's sovereignty over the area. Chinese Coast Guard vessels routinely confront Philippine ships and small boats resupplying the troops.
"Ayungin and Juan Felipe Reef are well within our 200-mile EEZ, the shoal being about 120 miles and the reef around 175 miles from Palawan. Those are more than 800 miles from the nearest Chinese island. China should abandon those areas," Rodriguez said.
The Chinese should also leave Scarborough Shoal, which is 120 miles off Zambales and Pangasinan, he added.
Rodriguez has been a consistent critic of Chinese presence in the country's EEZ and Chinese bullying of Philippine vessels and Filipino fishermen.
He lauded the statement of newly installed Defense Secretary Gilberto Teodoro Jr. to the effect that "what is ours is ours."
"It's a very courageous declaration. I hope that we can walk the talk," he said. (PNA)