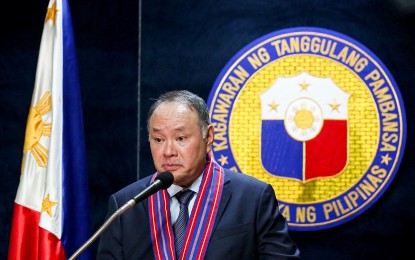 MANILA – The Philippines is a responsible and mature nation and is not a puppet of anyone.
Newly appointed Department of National Defense (DND) Secretary Gilberto "Gibo" Teodoro Jr. made this remark when asked whether the "balance of scales" in dealing with the United States and China has changed and where the country stands regarding this issue.
"My role is to articulate our policy clearly and also to avoid any misinterpretation of our international engagements with our treaty partners. And that role I reiterate is to help create as a value proposition the Philippines has a strong parity partner in defending itself, because I mean the Philippines is important not only to the United States but also to China, it is important to other countries too," he said in a television interview Wednesday.
In line with his goal of presenting the Philippines as a value proposition, Teodoro said we should articulate that "we are responsible, we are mature, we are not puppets of anyone."
Teodoro also emphasized that he will not fall into the trap of siding with "one camp or the other."
"For example there is always is tale spun that it is because of a potential Taiwan conflict, naturally we don't want the Taiwan conflict because our supply chain will be affected, a lot of semiconductors come from Taiwan and we don't want any conflict whatsoever and that tale is a false tale, being spun because we do not take any position regarding internal questions of other countries," Teodoro said.
Also, he added that if other countries want to have good relations with the Philippines, the DND chief said these nations have to give us a "modicum of trust".
"If other countries are sincere about having good relations with the Philippines they have to give us a modicum of trust, that we are responsible that we are not puppets of anyone and that we want the Philippines for the Filipinos," Teodoro stressed.
Regarding the Enhanced Defense Cooperation Agreement (EDCA) with the US, the DND chief said the Philippines is well aware that it should serve its national interest.
"There are a lot of admonitions regarding for example EDCA and we are cognizant of those admonitions, we are very cognizant and these are good reminders that EDCA insofar as the Philippines is concerned should serve our interest and not anybody else and a strong Philippines which adheres to clearly lay down norms of international law is a good for the whole world," he added.
Teodoro said also said building up a credible deterrent posture should not be aimed at one specific country but at potential threats to the Philippines' national security.
"We have to be able to build up our own mechanisms to protect our country, whether this be, bec of a dispute in the West Philippine Sea or whatnot. That is a non-negotiable posture," he added.
However, Teodoro also said that "deconfliction" is also important even as he maintained that the DND is committed to protecting the territorial integrity of the Philippines.
"I don't see any deviation from that rule and our territorial integrity is based not only on our Constitution but International Law, the UN Convention on the Law of The Sea and customary international law. We fought so hard for the Archipelagic Doctrine under UNCLOS and we are gonna stick by that," Teodoro said. (PNA)