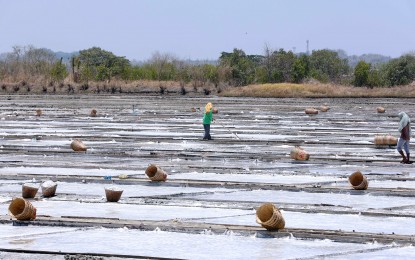 MANILA – A party-list lawmaker on Friday said the priority measure revitalizing the country's salt industry would help generate about 100,000 jobs in the agriculture sector.
Bicol Saro Partylist Representative Brian Raymund Yamsuan made the statement as he urged the Senate to fast-track the approval of its version of the proposed Philippine Salt Industry Development Act.
The Legislative Executive Development Advisory Council (LEDAC) has included the bill among the priority measures of President Ferdinand R. Marcos Jr.
Yamsuan said House Bill 8278, which hurdled final reading at the House of Representatives last week, aims to create a comprehensive plan for the salt industry to increase domestic production and boost investments in this sector, noting that the
it would create 20,000 direct jobs and another 80,000 indirect jobs.
"However, we can only realize this goal if we have solid funding to help our salt farmers access the technology and equipment they need to boost production. This is why we are urging the Senate to swiftly act on its counterpart measure for the revival of our salt industry once Congress resumes its session next month," Yamsuan said.
Yamsuan said aside from modernizing the industry, salt producers also need to expand their market linkages to be able to promote Philippine salt in both the domestic and foreign markets not only as a food flavoring, but also as a key element in various industries.
"Being an archipelagic country, we have a vast shoreline that can be utilized to produce salt. Sadly, instead of harnessing this natural advantage to develop the salt industry, our salt production has drastically declined and we have been importing 93 percent of our salt requirements for the past years," Yamsuan said.
Speaker Martin Romualdez said the significance of the salt industry has not been lost on President Ferdinand R. Marcos Jr., who is also the concurrent Department of Agriculture (DA) chief.
The DA said it sees the potential of the Philippines' salt industry in boosting the local economy, promote sustainable livelihood, and as an income-generating opportunity for the Filipino people.
"He (Marcos) knows that we need to correct the sad irony that the country imports nearly 550,000 metric tons (MT) or 93 percent of its requirement for salt. This is indeed a sin," Romualdez said.
The bill has been described by its authors as a whole-of-nation, whole-of-society and whole-of-government approach as it seeks to revitalize the salt industry.
Under the measure, the government shall provide support through appropriate technology and research, as well as adequate financial, production, marketing and other support services, in order to revitalize the salt industry, attain increased income for salt farmers and salt producers, achieve salt self-sufficiency, and become a net exporter of salt.
HB 7828 provides that salt -- whether unprocessed or processed -- is hereby classified as a basic agricultural product with all its necessary legal and regulatory implications.
The DA shall also ensure that salt is a priority commodity to be produced locally in areas or regions identified in proposed law, as well as in the development plan for the salt industry.
The measure establishes the Philippine Salt Industry Development Roadmap (PSIDR) which shall include programs, projects, interventions and incentives for the development and management, research, processing, utilization, modernization and business development and commercialization of Philippine salt.
HB 7828 also creates the Philippine Salt Industry Development Council (PSIDC) to ensure the unified and integrated implementation of the PSIDR and accelerate the modernization and industrialization of the Philippine salt industry. (PNA)