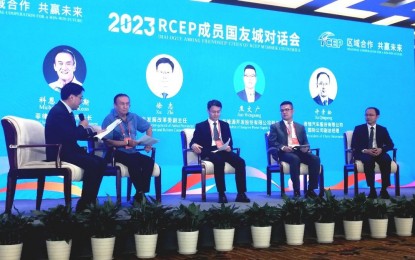 HUANGSHAN, China – Laoag City Mayor Michael Marcos Keon is looking forward to strengthening people-to-people exchange and trade ties with this city in Anhui Province following the signing of Laoag-Huangshan sisterhood ties last month.
Keon said Laoag and Huangshan can explore cooperation on tourism and agriculture with the recently signed sisterhood city agreement.
"This partnership offers a lot of opportunities for both cities particularly on tourism and cultural exchanges as well as trade and investment opportunities which is even more made viable with the presence of a Consulate in Laoag City, which is one of the four Peoples Republic of China consulates in the Philippines," Keon said on the sidelines of the Regional Comprehensive Economic Partnership (RCEP) forum here from June 9 to 11.
Keon signed the sisterhood city ties with Huangshan City Committee Secretary General Yan Long last May 19, 2023 in Laoag City.
Huangshan is Laoag's fourth Chinese sister city.
The mayor said other places share similarities such as the natural attractions aside from a rich culture preservation and a place that has vibrant tourism.
The first was in 1985 with Xiamen in Fujian Province; with Changsa in Hunan Province in 2003; and with Laibin in Guangxi Zhuang Autonomous Region in 2005.
Learning from each other
As an environmental advocate, Keon said he was impressed with the ecological preservation efforts that are incorporated into the Huangshan City's development.
"I was surprised when I arrived in Xiamen, I was so surprised by the landscaping. I was awed by its beauty and the way they plant their foliage, the trees, and the way they incorporate nature into the city. Flying up here to Huangshan at night and seeing all the beautiful architecture lit up, it is also something that we can really learn," he added.
On the other hand, Keon said businesses in Huangshan, as well as the whole China, can look into renewable energy projects in Laoag.
Laoag is in the process of studying a PHP228 million mass solar street lighting project, Keon said.
He added that the project will not only make people safe while traversing the roads but will also help decrease the dependence on fossil fuels.
Keon said Ilocos Norte province, with their city as the capital, continues to move towards contributing to renewable energy production, especially from wind and solar renewable sources.
"We have the biggest windfarm in the country in the towns of Bangui, Currimao, Burgos, and Pagudpud," Keon said adding that President Ferdinand R. Marcos Jr. recently inaugurated the Currimao wind farm.
Ilocos Norte, the home province of the President and the whole Marcos family, is the country's pioneer in wind power that also become a tourist attraction.
Meanwhile, China's local governments continue to enter into sisterhood and partnership ties with other countries like the Philippines.
"Collaboration and partnerships are platforms to exchange views and enhance ASEAN-China understanding towards a shared future. Together we may continue to have prosperity in the region," China-ASEAN Center Secretary-General Shi Jhongjun during the RCEP forum said. (PNA)