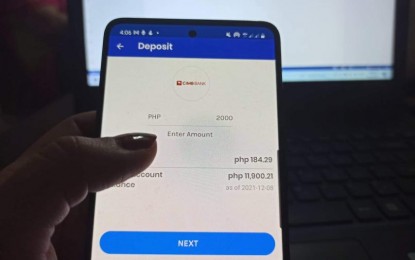 MANILA – An executive of digital-only Commerce International Merchant Bankers Berhad (CIMB) Bank is optimistic about doubling the number of their virtual cash users with the help of the recently launched virtual debit card after people have recognized the benefits of online transactions.
In a briefing on Thursday, CIMB chief marketing officer Bunny Aguilar said people's fear regarding online transactions is a reality but more individuals continue to prefer doing online transactions due to its convenience.
"That's the benefit of a virtual debit card – the transaction is (more) secured compared to using a physical card," Aguilar said.
He said their virtual debit card could be used in place of credit cards whenever this is required from online transactions.
Aguilar said the good thing here also is the fund that the buyer would use for whatever purchases would come from his savings, unlike a credit that he needs to pay later on.
This, he said, is what motivates CIMB executives to continue promoting the use of digital transactions.
Aguilar noted that the product also supports the government's bid to increase the share of digital financial transactions in the country to about 50 percent of total retail transactions by 2023.
"Definitely, we want to encourage our customers to avail of this product to open up the ecosystem of digitalization, not just of CIMB, but for the banking industry, as well," he said. (PNA)