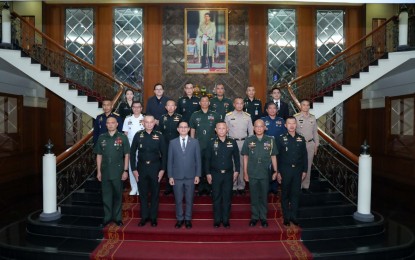 MANILA – Both the Philippines and Thailand see the Association of Southeast Asian Nations (ASEAN) as the major player in promoting regional peace and stability.
"On multilateral cooperation, the Philippines and Thailand recognized the importance of ASEAN as the stabilizing mechanism and central platform in promoting peace and stability in the region. Both countries reaffirmed commitment to further strengthen cooperation with fellow ASEAN Member States, particularly under the ASEAN Defense Ministers' Meeting (ADMM) and ADMM-Plus," Department of National Defense (DND) spokesperson Arsenio Andolong said in a statement Monday.
He made this statement after the successful conclusion of the 4th Philippines-Thailand Joint Committee on Military Cooperation (JCMC) held in Bangkok last June 27.
DND Assistant Secretary for Strategic Assessments and International Affairs Pablo Lorenzo led the Filipino delegation to the 4th JCMC.
The last iteration of the JCMC was held in August 2019 in the Philippines.
Lorenzo co-chaired the 4th JCMC meeting with General Nuchit Sribunsong, Deputy Permanent Secretary for Defence of the Ministry of Defence of the Kingdom of Thailand.
"During the meeting, both co-chairs reaffirmed their commitment to the implementation of the 1997 Philippines-Thailand Memorandum of Understanding (MOU) on Military Cooperation and underscored the importance of annually convening the JCMC meeting," Andolong said.
The two officials exchanged views and insights on the developments in the region, challenges and potential cooperation on cyber security, and the importance of enhancing capabilities on maritime security.
"On bilateral defense cooperation, both sides encouraged deepening military relations, through continued conduct of service-to-service dialogue mechanisms and exploring partnerships on maritime security, cyber security, military medicine, humanitarian assistance and disaster relief, and defense industry, among others," Andolong said.
Both nations also welcomed the crafting of the proposed Philippines-Thailand Defense Engagement Plan for CY 2023-2024, which will outline the list of activities to be conducted by both countries with short, medium, and long-term goals.
"Assistant Secretary Lorenzo invited General Sribunsong and the Thai delegation to the Philippines for the 5th JCMC meeting in 2024 which will coincide with the 75th anniversary of diplomatic relations between the Philippines and Thailand. Both officials looked forward to further strengthening defense and military relations," Andolong said.
Prior to the 4th JCMC, the Philippine delegation also rendered a courtesy call on Gen. Sanichanog Sangkachantra, Permanent Secretary for Defence, Ministry of Defence of Thailand, where Lorenzo welcomed Thailand's commitment to developing defense relations between the two countries.
Improving naval capabilities helps AFP deter intruders
Meanwhile, Armed Forces of the Philippines (AFP) chief Gen. Andres Centino said the constant presence of a more modernized Navy is helping the military deter intruders from encroaching in the country's waters.
"Because of our continued presence and maritime patrols, we are able to deter intruders from entering our territorial waters therefore keeping our people safe and our country protected," he said during his visit to Naval Operating Base Subic, Zambales last July 1.
The Philippine Navy has been upgrading its fleet with the acquisition of guided missile frigates, anti-submarine helicopters, missile boats, and fast attack interdiction craft.
In the pipeline are brand-new corvettes and offshore patrol vessels which are expected to be delivered soon.
Centino said the AFP will do everything it can to beef up the Navy's warfare capabilities.
This includes "further developing the capabilities of its naval assets" as it gradually shifts its focus from internal security to territorial defense operations.
"Being an adviser to the President and the Secretary of National Defense, it is important that I have firsthand knowledge of our ships' capabilities by inspecting and visiting them myself. Even more important is seeing our competent and dedicated troops who continue to develop their skills to better perform their mission," he added in a statement late Sunday.
He also commended naval personnel for their professionalism and dedication despite the challenges being faced by the AFP.
While in Naval Operating Base Subic, Centino visited three of the five Filipino warships docked in the facility.
The AFP chief boarded first missile frigate BRP Antonio Luna (FF-151), which gained anti-submarine warfare capability through its organic AW-159 "Wildcat" anti-submarine warfare (ASW) helicopter. It became mission capable by being able to land and take-off on the ship's flight deck.
The ship, which is commanded by Captain Clyde Domingo, is tasked with multi-role operations and is equipped with surface-to-surface and air-to-air missiles, anti-submarine torpedoes, automated cannons, and a variety of sensors for air, anti-surface, and sub-surface warfare.
It is the second ship of the Navy's Jose Rizal-class, missile-guided frigates that are capable of anti-surface warfare, ASW, and anti-air warfare.
Meanwhile, other frigates and corvettes of the Navy are also utilized as transport vessels for humanitarian missions during national calamities and as escort vessels to protect the sea line of communication.
Centino also examined the equipment aboard BRP Conrado Yap (PS-39) headed by Commander Johanns Cruzada and BRP Ramon Alcaraz (PS-16) commanded by Commander Jim Aris Alagao.
He also addressed all the men and women deployed to the ships who gathered at BRP Antonio Luna, including those of the two others docked in Subic, BRP Andres Bonifacio (PS-17) and BRP Davao del Sur (LD-602). (PNA)