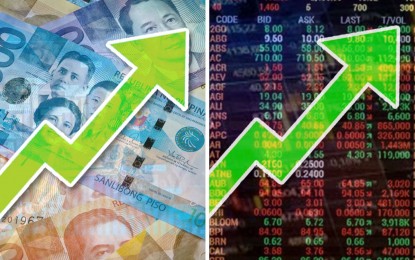 MANILA – The easing of inflation in the United States has fueled optimism in the local stock market as well as the Philippine peso during Thursday's trading.
The Philippine Stock Exchange index (PSEi) ended the day stronger by 111.64 points to 6,578.49 percent, with all shares and all sectors closing in the green.
Regina Capital Development Corp. head of sales Luis Limlingan said the local bourse benchmark improved amid the better-than-expected inflation reading in the US.
The US government reported a 3-percent inflation for June, the lowest in two years.
Further, all shares in the local stock market increased by 39.73 points to 3,497.06.
Leading the gainers on Thursday's trading is the Mining and Oil sector, which shares jumping 187.65 points to 10,036.76.
The increase in shares in this sector follows the improved sentiments of the global oil market after the US inflation report.
"Similarly, the decline in inflation boosted the prices of oil. Brent futures settled up to USD80.11 per barrel, up by 0.9 percent (and) U.S. WTI (West Texas Intermediate) crude to USD75.75 per barrel, up by 1.2 percent," Limlingan added.
Total volume of shares traded in the PSE this day reached more than 509.6 million, with value amounting to PHP6.04 billion.
Advancers outpaced decliners at 114 to 60, with shares of 48 firms left unchanged.
Along with the increase in the local shares, peso also ended the day strong at 54.51 to a US dollar.
The local currency improved by 0.42 from Wednesday's closing of 54.93 to the greenback.
Rizal Commercial Banking Corp. (RCBC) economist Michael Ricafort said peso's Thursday closing is its best performance in three months since April 5 when the currency pair traded at 54.40 to a dollar.
Meanwhile, the local currency started the day strong at 54.60 from Wednesday's opening of 55.18.
The peso and dollar traded between 54.46 and 54.67, bringing the average level for the day at 54.57.
Volume of trade also increased to USD1.41 billion from last day's USD1.36 billion.
"The peso (was) also stronger amid some seasonal increase in OFW (overseas Filipino workers) remittances and conversion to pesos for tuition payments and to finance other school opening-related expenditures," Ricafort said.
For Friday, the peso exchange rate could range at 54.40 to 54.60 levels, the bank's economist added. (PNA)