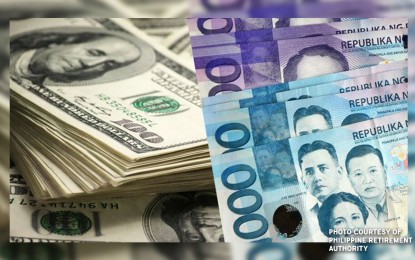 MANILA – Both the Philippine shares and the peso shed on Tuesday's trading as China's missed second quarter economic growth resulted to a ripple effect in Asian markets.
The Philippine Stock Exchange index (PSEi) finished the day's trading losing 21.96 points to 6,528.80, with All Shares also shedding by 10.89 points to 3,482.75 level.
Philstocks Financial, Inc. research associate Claire Alviar said the negative sentiments in China affected other markets in the region, including the Philippines.
China reported second quarter 2023 gross domestic product (GDP) expansion of 0.8 percent, far from economists' forecast growth of more than 7 percent.
Counters were divided in the green and red.
"Sector performances were mixed with the Properties leading the gainers, increasing 0.46 percent while Financials had the biggest loss of 1.37 percent," Alviar noted.
There were 45,682 transaction trading 487 million shares at the PSE. Trade value on Tuesday amounted to PHP3.2 billion.
Decliners outnumbered advancers at 106 to 71, with shares of 52 listed firms remained intact.
"Among index members, Puregold Price Club, Inc. gained the most by 1.53 percent while Monde Nissin Corp. suffered the steepest decline at 5.11 percent," the analyst cited.
Meanwhile, the local currency ended the day sideways at 54.41 to a US dollar from the previous day's finish of 54.38.
It traded between 54.36 and 54.47, with a weighted average for the day at 54.41.
Volume of trade further declined to USD753.4 million compared to Monday's USD977.4 million. (PNA)