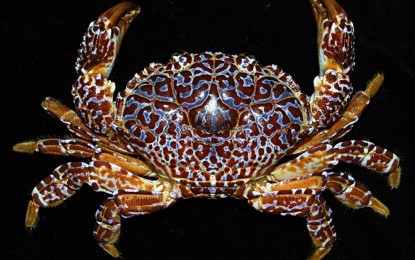 LEGAZPI CITY – The Bureau of Fisheries and Aquatic Resources in Bicol (BFAR-5) warned the public on Wednesday against the increasing sightings of poisonous crabs in different towns of the region.
In an interview, BFAR-5 Regional Director Ariel U. Pioquinto said there are two poisonous crab species present in the waters of Bicol -- the devil crab (Zosimus aeneus) and floral egg crab (Atergatis floridus), both locally known as "liod" or "kaligmata", which are reef crabs.
"We made the warning since there are reports in other regions particularly in Region 9. We want to educate the public and ensure that no one will be victimized by the poisonous crabs. Based on our monitoring, wala pa naman nabiktima or naospital dahil sa crabs na ito (there was no one victimized or hospitalized yet because of these crabs). We want to ensure to safeguard the well-being of our fisherfolk," Pioquinto said.
In a report from the National Stock Assessment Program (NSAP) and provincial fisheries office, sightings of the hazardous crabs have been reported in the town of Lagonoy in Camarines Sur; Mercedes, Camarines Norte; Cawayan, Masbate; and in Gubat, Bulusan and Matnog, all in Sorsogon province.
Pioquinto said the 'devil crab' has brownish blotches on a paler background and has neurotoxins within its flesh and shell that are resistant to heat or cooking.
"Mere touching of the poisonous crabs is dangerous already, so we want to reiterate the serious harm that may be caused by these species especially when it is eaten. Paralysis, respiratory difficulties and even death (may occur) within a short period," he said.
To ensure the safety of the public, BFAR-5 strongly urges everyone to familiarize themselves with the appearance of the toxic crabs to accurately identify them.
Pioquinto also urged those who may come across any poisonous crab to report it to the provincial fisheries office or their respective local government units (LGUs).
"Timely reporting will enable us to closely monitor the situation and implement necessary measures to mitigate potential risks," he said.
He advised the public to exercise utmost caution and not have direct contact with these crabs, particularly their pincers. It is crucial to avoid handling them without adequate protection, such as thick gloves or tools that maintain a safe distance, he added.
In the event of accidental contact or consumption of a poisonous crab by anyone, the person must immediately seek medical attention, especially if any symptoms or allergic reactions occur.
Ensure the proper disposal of any captured poisonous crabs, keeping them out of the reach of children, pets, or unsuspecting individuals, Pioquinto further said. (PNA)