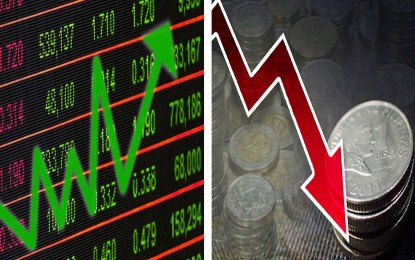 MANILA – The Philippine Stock Exchange index (PSEi) ended Wednesday's trading in positive territory, mirroring gains in the United States equities markets, while the peso depreciated.
The PSEi closed 13.11 points higher to a 6,541.91 finish, with all shares at 3,490.91, gaining by 8.16 points.
Rizal Commercial Banking Corp. Treasury Group chief economist Michael Ricafort said the local bourse corrected slightly higher after the latest overnight gains in the US stock markets.
In the local setting, the Board of Investments' investment approvals of PHP698 billion, which improved by 203 percent; recent net foreign buying in the PSE; signals of possible rate cuts; and the Philippine peso trading at the 54-level to the dollar have fed confidence to share buyers.
All sectors, except for Financials, increased their shares during the day's trading.
Gainers were led by Mining and Oil, which went up by 111.38 points to 9,962.35, followed by Industrials, 51.52 points to 9,276.82; Property, 8.47 points to 2,653.74; Services, 6.97 points to 1,586.05; and Holding Firms, 3.85 points to 6,369.45.
The lone sector in the red, Financials, declined by 5.81 points to the 1,892.04 level.
Total trade volume reached more than 489 million shares, with aggregate value amounting to PHP3.66 billion.
Despite the PSEi ending in the green, decliners still outpaced advancers at 92 to 80, with 48 firms left unchanged.
Meanwhile, the local currency depreciated after shedding 0.10 to 54.51 to the US dollar on Wednesday from its closing of 54.41 on Tuesday.
The peso and dollar traded between 54.45 and 54.65, bringing the day's weighted average to 54.54 to the greenback.
The volume of trade was higher at USD1.05 billion from USD753.4 million the previous day.
Ricafort said the peso-dollar exchange rate could range from a low of 54.80 to a high of 55.10 on Thursday. (PNA)