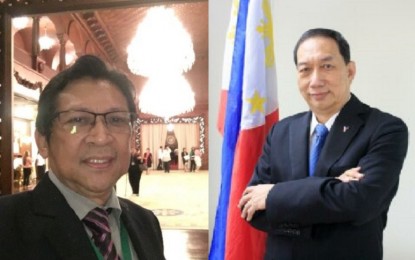 MANILA – The importance President Ferdinand R. Marcos Jr. has placed on promoting ease of doing business in the country, as made evident during his second State of the Nation Address (SONA), continued to draw positive reactions from the business community, particularly from energy sector executives.
In separate interviews on Wednesday, Fernando Martinez, chairman of the Independent Philippine Petroleum Companies Association (IPPCA) and Francis Chua, chairman emeritus of the Philippine Chamber of Commerce and Industry (PCCI), said the administration's determination to achieve energy sufficiency serves to embolden prospective investors.
Martinez especially welcomed Marcos' issuance of an executive order (EO 18) establishing a "green lane" for investors, which is envisioned to serve as a one-stop-shop for the application and issuance of all business permits issued by both national and local regulatory agencies.
"Regulatory issues must really be addressed. Red tape leads to delays which is bad (for business) and breeds corruption. Eliminating it as much as possible will really make the business climate more favorable to investors," he said in the sidelines of an APEC Advisory Council meeting in Cebu City.
Martinez, who is also chairman of Eastern Petroleum, also lauded the incumbent administration's thrust towards using more renewable energy.
"Aside from environmental benefits, renewable energy facilities can be put up very quickly. Wind farms (power plants) can be operational within three years, while solar power can be operational in one year. Of course, minus regulatory delays. I know several investors who are interested (in setting up power facilities)," he added.
The country's National Renewable Energy Program (NREP) targets that by 2030, 35 percent of the country's energy mix should be coming from renewable sources, and by 2040, this will further increase to 50 percent.
Meanwhile, Chua said efforts to make the Philippines more attractive to foreign investors are "a work in progress, but we are headed in the right direction with the president at the helm."
He explained that the power transmission segment of the broader energy sector is especially fraught with difficulties because its facilities span multiple jurisdictions, and are, therefore, subject to numerous regulatory authorities.
Chua, who sits as a director of the National Grid Corporation of the Philippines (NGCP), also pointed out that power transmission facilities are always exposed to weather disturbances, and their upkeep is "a never-ending job."
It can be recalled that during Monday's SONA, Marcos called out the NGCP for delays in several power transmission projects, and directed the concessionaire to hurry the completion of stalled projects.
The company quickly responded by promising to "focus all the resources at its disposal to complete all existing transmission projects and expedite others in the pipeline," even as it appealed to regulators to address right-of-way issues and hasten the issuance of permits.
NGCP is a consortium made up of Monte Oro Grid Resources Corporation, Calaca High Power Corporation, and the State Grid Corporation of China.
"As we (the country) move closer to becoming a truly developed economy, our demand for energy will likewise increase significantly. We at the PCCI and its affiliates are encouraged that the president is putting so much focus on the power sector. Aside from providing power to other businesses, energy (sector) itself is big business. With this administration's efforts towards ease of doing business, I think we will see many more (investors) coming in," Chua said. (PNA)