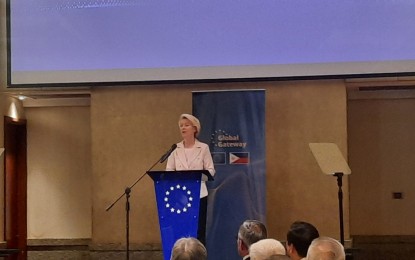 MANILA – Visiting European Commission (EC) President Ursula von der Leyen on Monday said the European Union (EU) is looking into extending its underwater cable project to the Philippines.
Von der Leyen shared this with the European and Filipino business community here during a high-level business event in Makati City.
"European Union is exploring a possible extension of a new fiber submarine cable that will connect the European Union (EU) via the Arctic to Japan, and now we're looking into the possibility to extend it to the Philippines," she said.
Von der Leyen said the project will create data connection between Europe and Asia, and is expected to open up new investments between the EU and the Philippines.
Aside from this connectivity project, she reaffirmed EU's commitment to space cooperation with the Philippine Space Agency (PhilSA) following the launching of the PHP610-million Copernicus Capacity Support Action Programme for the Philippines (CopPhil) last April.
Von der Leyen said the EU and PHILSA are working together to build the first observation system, which data will be made available for space services in the Philippines.
"In other words, the Copernicus data will be in real-time stored and shared in the Philippines through your space agency. This is of utmost importance for example for disaster risk management, or for early warning system against typhoon, a typical topic here for the Philippines. But (this is) also for climate change observation, for satellite navigation which is fundamental for aviation --for example for drones and autonomous driving," she added.
Von der Leyen said these initiatives are part of a "larger digital economy package" that the EU and the Philippine government are finalizing.
She said these projects will help the Philippines to shape its digital and innovation landscape.
Von der Leyen is on a two-day visit to the Philippines until Aug. 1, and her only stop in Asia, making her the first EC President to officially visit the country. (PNA)