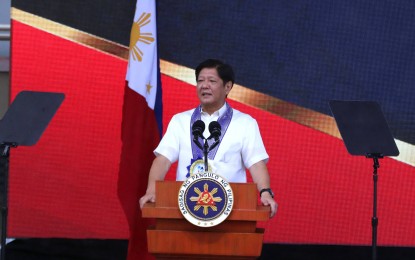 MANILA – President Ferdinand R. Marcos Jr. on Wednesday underscored the importance of protecting the livelihood of tobacco farmers.
"These past years, we had seen so much change in our health policies that affected the tobacco industry. As such, we must seek ways to protect the livelihood of thousands of our tobacco farmers," Marcos said in his speech delivered by Ilocos Norte Gov. Matthew J. Marcos Manotoc at the International Tobacco Agricultural Summit at Shangri-la the Fort in Bonifacio Global City.
The President said the tobacco industry has been a catalyst for economic growth in the country, especially in Northern Luzon and Mindanao.
"For many of our people, it is an indispensable bedrock that generates income, livelihood, opportunities, and employment, particularly in areas where its cultivation spans generations and holds pivotal significance in the way of its communities," said Marcos.
"It is a significant source of tax revenues that are used to fund government programs," he added.
Marcos directed the Department of Agriculture and the National Tobacco Administration (NTA) to explore other crops that can be grown alongside tobacco.
Illicit tobacco trade
To protect local tobacco farmers, the NTA said it is closely coordinating with other government agencies to help combat the illicit tobacco trade.
"We are working with the BIR (Bureau of Internal Revenue). We are supporting their efforts [to combat] illicit trade," said NTA administrator Belinda Sanchez on the sidelines of the summit.
NTA regulatory department manager Robert Ambros, meanwhile, disclosed the losses due to illicit tobacco trade amounted to about PHP30 billion from 2020 to 2022.
"That record was taken from previous years. We've heard that information during last year's congressional hearings on tobacco trading and smugglings," he said.
Ambros said the projected losses for this year are "a little higher" than PHP30 billion. (PNA)