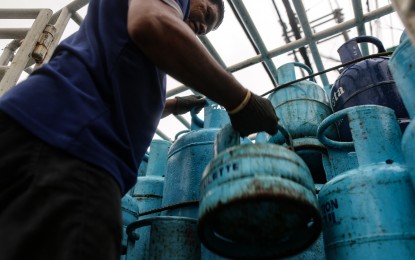 MANILA – BMI, a unit of Fitch Solutions Company, sees the Philippines as a promising market for liquefied petroleum gas (LPG) with its strong economic growth outlook and rapid urbanization across the country.
In a commentary released Wednesday, BMI said growth in LPG demand in the Philippines is primarily driven by residential and commercial sectors rather than transport.
BMI forecasted that growth demand for LPG from 2023 to 2032 will range between 5.5 percent and 6.5 percent.
Fitch Group's unit said that between 2015 and 2022, the average annual growth rate of the country's LPG consumption was at 7 percent.
However, LPG consumption in the country is relatively low compared to Association of Southeast Asian Nations (ASEAN) neighbors such as Malaysia, Indonesia and Thailand, it added.
"Unlike other Southeast Asian markets, the Philippines' demand for LPG continued to grow despite a slowdown in economic activity and widespread shutdown of commercial businesses and restaurants during the outbreak of Covid-19 (coronavirus disease 2019)," BMI said.
BMI also forecasts that the share of the residential and commercial sectors in the Philippines' total LPG consumption will increase to 92 percent this year from 89 percent in 2022.
"Prospects for strong demand growth from residential and commercial sectors will continue to be supported by improving access to LPG, rising urbanization and strong population and economic growth outlook," it added.
BMI also expects LPG demand from industrial sector will support growth of the market.
"In addition, LPG demand for petrochemical production is expected to grow marginally since the JG Summit Petrochemicals Group is ramping up LPG cracking at its olefins complex," the report said.
On the other hand, downside risk for LPG consumption in the country is expected to come from the sustained weakness in the transport sector.
"LPG use in the transport sector is a small fraction of LPG consumption since demand was estimated to have dropped from 1,200 barrels per day in 2015 to just below 100 barrels per day in 2022 due to the decline in autogas vehicles on the roads and the slowdown in LPG conversion," BMI said.
"Demand for LPG from transport industry is expected to decline further since the government is unlikely to promote autogas industry going forward in view of declining popularity of autogas vehicles amongst public and private transport operators," it added.
Meanwhile, amid the increasing LPG consumption, the country's dependence on LPG imports is expected to grow further.
BMI added this makes LPG prices in the country to remain exposed to the LPG spot market. (PNA)