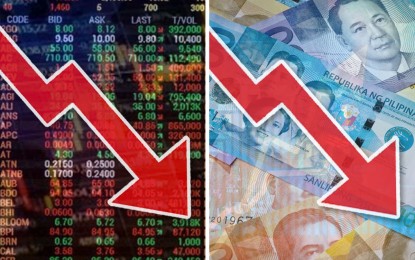 MANILA – The local bourse plunged to 6,400-mark while Philippine peso touched the 55-level on Wednesday, reflecting the market's reaction to the Fitch Rating's downgrade of the United States' credit rating.
Local benchmark Philippine Stock Exchange index (PSEi) dropped 110.52 points to 6,483.28, with all shares declining by 52.09 points to 3,463.86.
"Philippine shares along with the whole region plummeted, as independent rating agency Fitch cut (US credit) rating from the top level of AAA to a notch lower at AA+," Regina Capital Development Corp. head of sales Luis Limlingan said.
All six trading sectors at the PSE closed in the negative territory, with largest losses recorded in Mining and Oil as well as Industrial counters at 208.35 and 164.84 points, respectively.
Shares of Holding Firms declined by 92.48 points, Property by 47.59 points, Services by 30.83 points, and Financials by 26.01 points.
Losers outpaced gainers at 154 to 27, with Union Bank of the Philippines being the biggest winner, while Converge ICT Solutions Inc. shedding the most of its value.
Forty-seven publicly listed firms maintained their previous shares.
Total shares traded reached 787.44 million amounting to PHP4.23 billion.
Meanwhile, peso depreciated by 0.42 touching the 55-level against the greenback Wednesday.
The peso and the US dollar closed this day's trading at 55.19 from previous day's 54.77 finish.
It opened the day at 54.84 from Tuesday's 54.85 before trading between 54.84 and 55.20.
The weighted average for the day was at 54.98 to a dollar.
With a stronger US dollar, the volume of trade between the currency pair increased to USD1.11 billion from USD972.5 million the previous day. (PNA)