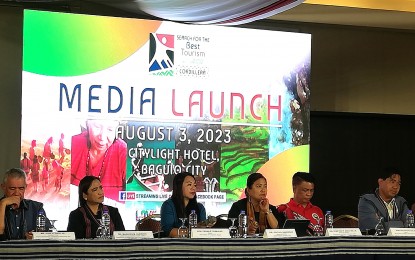 BAGUIO CITY – The Department of Tourism in the Cordillera Administrative Region (DOT-CAR) on Thursday launched its search for the "Best Tourism Village" to promote less known and emerging villages across the region that embrace tourism as a means to provide opportunities and drive sustainable development.
"The DOT localizes the tourism programs that help promote the unpopular areas and make the people avail of more government programs through the whole-of-government approach," Jovi Ganongan, regional director of the DOT-CAR, said during the launching of the "Search for the Best Tourism Village-Cordillera" in a hotel here Thursday.
She said these destinations may be small and less popular but still possess natural beauty and a rich culture, with its inhabitants living in harmony and protecting the environment and promoting cultural heritage.
The criteria for selection include cultural sustainability, sustainable management, socio-economic and rural economic development sustainability and environmental sustainability.
"We have seen how competitive and self-sufficient our tourism villages and this has been our inspiration to continue reaching out to empower communities by involving them directly," Ganongan said.
She said residents in participating tourism villages will undergo various training and receive different assistance from the government to capacitate them.
"By participating in the initiative, tourism villages can seize opportunities for economic growth and improve their overall welfare, help promote the region and strengthen its position as a haven for ecological and sustainable tourism activities," she added.
Among the agencies providing training are the Technical Education and Skills Development Authority (on food preparation and cooking), the Department of Trade and Industry (on packaging of processed products), and the Department of Science and Technology (on equipment).
"The DOT cannot do it alone so our approach is whole of government where there is harmonization of development," the official said.
Herman Soliaban, president of the Pidilisan Tourism Village Organization in Sagada, Mountain Province, said during the launching that their organization promotes the sustainability of their forests and rice farms. "That is why we are very healthy because we promote this activity," he said.
Sagada Mayor Felicito Dula, for his part, also threw his support to the program, saying they are actively promoting tourism in Sagada because it gives livelihood to locals.
Jose Dado Jr. of the National Economic Development Authority during the program stressed how tourism contributes to the economic growth of the region.
"It gives at least PHP800 million in terms of the value of goods and services," he said. (PNA)