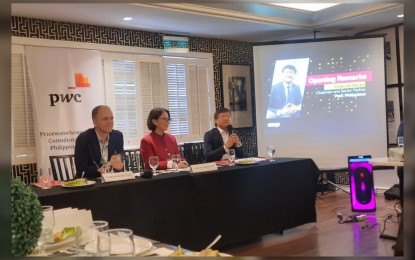 MANILA – 'The Great Resignation' is far from over, even for the Philippines, as 29 percent of Filipino workers are looking for new jobs amid being restless while demanding higher pay from their employers to meet the increasing cost of living in the country.
The PwC Hopes and Fears Global Workforce Survey indicated that the rate of Filipino workers looking for new employers in the next 12 months is higher compared to the global result of 26 percent, but slightly lower compared to the regional rate of 30 percent.
At the media launch of the survey in Makati City Thursday, PwC Philippines managing principal Veronica Bartolome said Filipino employees consider themselves to be more restless and are more eager to demand pay raise and promotions as cost of living concerns bite. Being restless at work and demanding higher salaries are among the concerns of the global workforce.
"This means that the tight labor market that we face, talent shortages, and inflation concerns that persist, and also the rise of the living costs mean that employers must listen to their employees' demands and concerns," Bartolome said.
"Business leaders and organizations must consider not only financial but also non-financial rewards to meet increasing expectations of employees," she added.
PwC Southeast Asia workforce transformation leader Martijn Schouten underscored that although one in four workers around the world want to change their jobs in the next 12 months, the global crisis hinders them to move faster to their next employers.
"What I think is hindering people from even moving around faster is the fact that we see some growth global crises happening, which translates into seeing a little bit more security, and others feel that the workforce is very demanding in pay rises, promotion, and other upscaling," Schouten said.
'The Great Fit'
In a panel discussion, FAST Logistics Group chief human resource adviser Pierre Monserrate said that employees, especially during the height of the coronavirus disease 2019 (Covid-19) pandemic, are willing to leave their current jobs even without securing a new one once they feel that the companies' values no longer fit with their own values.
"'The Great Fit' is about the 'fit of values'. A lot of people realize what's really valuable to them, particularly during the pandemic when they realize that their health is more important, and their families are more important. And my challenge also with companies is that we need to be clear of who we are as a company and the values that we espouse," he said.
Moreover, Bartolome said that despite the high rate of Filipino workers who would like to leave their jobs, "employees will try to exhaust possible opportunities and possibilities within their current employer".
Both Bartolome and Monserrate shared that beyond the financial package or counter-offers for those seeking resignation from their current work, employers should rethink the overall well-being of their employees.
Monserrate said offering retention pay could work to make employees stay, but it is a short-term solution.
"Companies need to look at the totality, and the sustainable answer to that would be the softer side of employee engagement and leadership. Those things are very important," he added. (PNA)