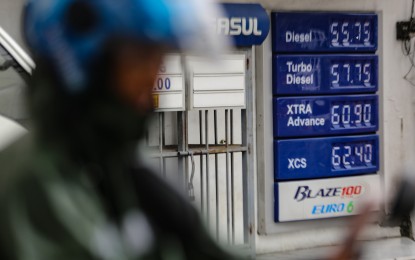 ANTIPOLO CITY – The recent spike in oil prices is seen as an aberration and is unlikely to reverse softening inflation for the remainder of the year's third quarter, according to an industry expert.
Fernando Martinez, chair of the Independent Philippine Petroleum Companies Association, said the rather substantial oil price hike implemented on Tuesday was the direct result of production cuts jointly announced by Russia and the Organization of Petroleum Exporting Countries.
"The market is really highly speculative. An announcement like that (oil production cuts) will surely trigger a reaction like that (price increase)," he said in an interview Saturday.
Martinez also disclosed that another substantial increase in local pump prices is expected by the second week of August.
"It (oil price increase) will probably range somewhere between PHP3 to PHP4 per liter. But I doubt if further increases will take place after that," he added.
On Aug. 1, local oil firms raised the prices of diesel by some PHP3.50 per liter, gasoline by PHP2.10 per liter and kerosene by PHP3.25 per liter.
Likewise, the price of liquefied petroleum gas increased by PHP4.55 per kilo.
However, Martinez said oil market analysts are predicting that international prices of petroleum will tumble downward later this month, due to lower demand from China, which is the world's second largest consumer of oil.
"The destruction brought about by the typhoon (Egay) and unfavorable investor sentiment are expected to cause a slowdown in China's demand (for oil)," said Martinez.
He also explained that aside from fuel costs, the price of food contributes heavily to the country's inflation numbers.
Meanwhile, Gregorio San Diego, chair of the United Broiler Raisers Association, said despite ample domestic production of chicken, continued importation in significant volumes has served to counteract upward price pressures.
He explained that while the current glut may help tame inflation in the short-term, this may prove detrimental to local food producers, thus not helpful to country's long-term food security goals.
On Friday, the Bangko Sentral ng Pilipinas reported that headline inflation decelerated to 4.7 percent year-on-year in July from 5.4 percent in June, settling within the central bank forecast range of 4.1 to 4.9 percent for the month.
It represents the fifth consecutive month of continued decline in the country's inflation after it peaked at 8.7 percent in January. (PNA)