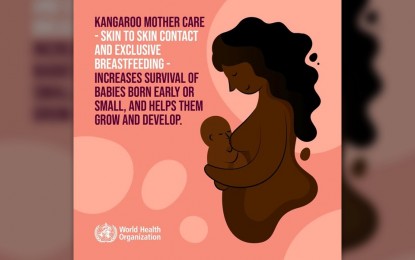 TACLOBAN CITY - The Eastern Visayas Health Research and Development Consortium (EVHRDC) has highlighted the study on kangaroo mother-assisted devices that will monitor the health of infants.
EVHRDC chair and Department of Health Eastern Visayas regional director Exuperia Sabalberino on Wednesday said this "kangaroo mother care" (KMC) is one of the projects of the region's researchers this year, led by Virginia Ariza, teacher of Holy Infant College here in partnership with Mother of Mercy Hospital and Northwest Samar State University.
The central focus of implementing "kangaroo mother care" is to maintain a conducive temperature through skin-to-skin contact.
The project, recently done with its first phase, is the actual creation of prototyping of the Kangaroo mother care device.
"The creation of this device is not to create a replacement of the sophisticated incubators intended for low birth weight and premature newborn but to enhance the practice not only in established hospitals but also at remote and far-flung health centers," Sabalberino explained.
"The study seeks to evaluate the performance and safety of the KMC device in monitoring, detecting, and regulating the temperature of premature and low birth weight infants over a timespan ranging from three to six months not including other activities prior to and after the clinical trials," Sabalberino said during a press briefing.
Currently, the infant care is being practiced by the state-run Eastern Visayas Medical Center in this city.
The project is on its second phase which will "test certain indicators in a clinical setting." Additional features will be included, such as adding a mobile phone application, Bluetooth, and Wi-Fi-ready.
Ariza presented the research during the 16th Philippine National Health Research System (PNHRS) at the Summit Hotel here.
The gathering on Aug. 8 to 11 is anchored on the theme "Sustainable Development: Resilience through Health Research."
The convention will be narrowing on the important role that health research and development fulfills in driving sustainable development across the Philippine health sector.
Multiple partners from the academe, the medical field, public health, and science and technology, among others, will be showcasing exceptional health research initiatives that contribute to our nation's Sustainable Development Goals agenda.
The PNHRS Week with 450 participants from 17 regions also aims to foster collaboration among stakeholders and will feature a series of competitions, press conferences, meetings, and plenary sessions with the brightest of minds and most influential figures in the health research community. (PNA)