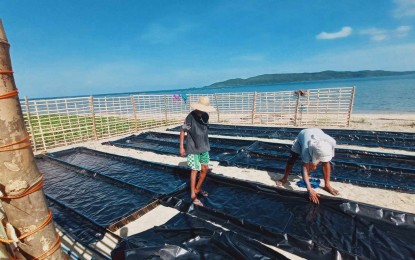 CITY OF SAN FERNANDO, Pampanga – Salt producers in the provinces of Aurora and Zambales have started to adopt solar technology that could help revitalize the industry in Central Luzon.
Wilfredo Cruz, regional director of the Bureau of Fisheries and Aquatic Resources-Central Luzon (BFAR-3), on Wednesday said fisherfolk associations in Barangay Mijares in Dipaculao and in Dilasag, both in Aurora, and in Iba town in Zambales are now actively engaging in the installation and trial process of the solar salt packages which were provided by the Department of Agriculture.
Cruz said the salt producers are now taking a significant step towards reducing reliance on traditional cooking methods and tapping into the full potential of renewable energy sources that could help enhance the production capacity and ensure a more consistent supply even during the rainy season.
He said the transition from the traditional salt-making process to solar salt technology will not only boost productivity but also promote environmental sustainability.
"We are thrilled to witness the enthusiasm and dedication of the beneficiaries in embracing this approach to salt production. The adoption of solar salt packages signifies a significant shift towards a more sustainable and resilient salt production method," Cruz said in a statement.
Solar salt technology harnesses the power of the sun in the evaporation process, resulting in higher yields of salt, particularly during the sun-drenched summer months.
"This initiative not only optimizes salt production but also paves the way for year-round productivity. With Aurora and Zambales leading the way, and Pampanga soon to follow, this initiative promises to create a ripple effect that could potentially transform salt production practices in the region," he added.
Low-quality control and stunted product improvement for many years are among the factors that have contributed to the decline in the production of salt, according to the DA.
To date, the DA said the country is importing 93 percent of its salt supply. (PNA)