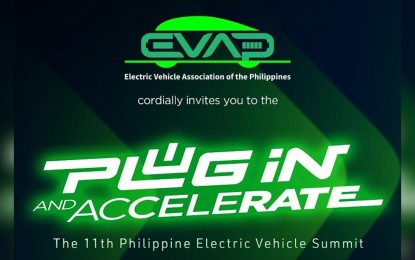 MANILA – Electric Vehicle Association of the Philippines (EVAP) president Edmund Araga announced Wednesday that the Philippine Battery Consortium will be launched at the 11th Philippine Electric Vehicle Summit (PEVS) in October.
In a pre-event press conference in Taguig City, Araga said the consortium aims to address the challenges in the e-vehicle supply chain, especially batteries.
"Not to be missed is the establishment of the Philippine Battery Consortium, which (will) be launched during PEVS 2023. It is aimed at addressing the important concerns and issues about battery supplies and costs," he said.
Stakeholders from both public and private sectors have acknowledged that one of the biggest challenges in the country's e-vehicle industry is the availability of batteries in the local market.
The Department of Trade and Industry (DTI) has been inviting global producers of e-vehicle components, including batteries, to look into investing in the Philippines and make the country their manufacturing hub in the region.
With the country's rich natural resources, the DTI wants investments in mineral processing value chain here rather than only exporting the raw materials to different countries that will be used in the manufacturing of finished products like e-vehicle batteries.
"We are currently the number one exporter of nickel direct shipping ore in the world, with 22 producing nickel mines in 2021. This opens up opportunities for mineral processing and battery manufacturing in support of the electronic vehicle global supply chain," DTI Undersecretary Ceferino Rodolfo said in a statement last June 23.
United States Senator Tammy Duckworth, who visited Manila last week, urged Japanese, Korean and Taiwanese battery manufacturers to consider putting up their supply chain in the Philippines, which can also be exported to the US market as the US bans e-vehicle batteries with components from China under its Inflation Reduction Act.
In the same event, Department of Energy (DOE) Director Patrick Aquino said it is projected that e-vehicle registration in 2028 will reach 100,000 units from only 9,666 registrations in 2022. These numbers show demand for e-vehicle batteries in the coming years.
Meanwhile, EVAP will be holding the PEVS 2023 from Oct. 19 to 21 at the SMX Convention Center in Pasay City.
"The three-day event will be a bigger venue for networking as well as for plenary and moderated discussions, which everyone would surely find helpful," Araga said. (PNA)