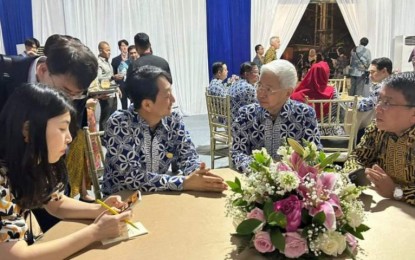 MANILA – Department of Trade and Industry (DTI) Secretary Alfredo Pascual on Monday said the Philippines and the Republic of Korea (ROK) are aiming to sign the bilateral free trade agreement (FTA) next month.
Pascual and South Korea's Trade, Industry and Energy Minister Ahn Duk-Geun met on the sidelines of the 55th ASEAN Economic Ministers Meeting in Semarang, Indonesia on Sunday.
"Both Ministers welcomed the conclusion of the PH-ROK FTA negotiations and agreed to work for its signing, preferably at the sidelines of the 24th ASEAN-Republic of Korea (ASEAN-ROK) Summit in September 2023," Pascual said in a Facebook post.
The 24th ASEAN-ROK Summit will be held in Jakarta, Indonesia next month.
Pascual and Ahn initially met during the Asia Pacific Economic Cooperation (APEC) Summit in Bangkok, Thailand in November last year, wherein both trade ministers eyed to seal the FTA in the first quarter of 2023.
However, Seoul was busy preparing for its presidential elections last year.
Meanwhile, South Korea's Ministry of Trade, Industry and Energy (MOTIE) has yet to issue a statement on the signing of the Philippines-ROK FTA.
"In time for the celebration of the 75th anniversary of Philippines-Korea diplomatic relations, both ministers are also considering organizing a business forum to further boost trade and investment relations," Pascual added. (PNA)