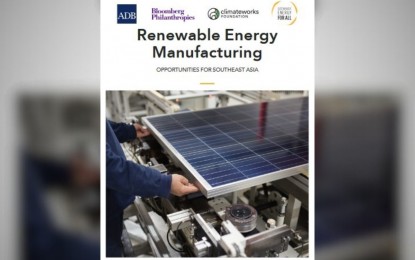 MANILA – The Asian Development Bank (ADB) has cited economic gains for the Philippines should it aspire to establish a solar photovoltaic (PV) manufacturing industry.
In its Renewable Energy Manufacturing: Opportunities for Southeast Asia report, scaling the production of solar PV in the country of 3 to 5 gigawatts (GW) by 2030, with around half of the output to be supplied in the domestic market, will have the potential to create significant economic value for the country.
The report defined the 3 to 5 GW solar PV manufacturing scale as enabling economies of scale to achieve the "size of prize" by 2030.
According to ADB, achieving a scale of 3 to 5 GW will require investment of USD150 million to USD250 million (PHP8.5 billion to PHP14 billion) for three to five years.
"Investment in a manufacturing industry adds to its gross domestic product (GDP) and creates jobs during both its construction phase (i.e. facility development and expansion) and operation phase," the ADB report said.
It added that achieving a solar PV manufacturing scale of 3 to 5 GW will add USD100 million to USD175 million (PHP5.69 billion to PHP9.95 billion) to the country's GDP by 2030.
Of the said contribution to the economy, USD56 million to USD115 million (PHP3.18 billion to PHP6.54 billion) are direct, USD23 million to USD43 million (PHP1.31 billion to PHP2.44 billion) indirect, and USD13 million to USD20 million (PHP739 million to PHP1.14 billion) are induced.
"Such impacts are cascading: through direct impact from the construction, equipment purchase, and operations; indirect impact via supply chains, with higher potential impact the more localized the supply chain is; and induced impact, with increased spending driven by income changes of employees in the value chain," the report read.
In terms of job generation, the scale of the local industry will create 4,000 to 7,000 direct jobs, 3,000 indirect jobs, and 1,000 to 2,000 induced, or a total of 8,000 to 12,000 additional local employment by 2030.
On the other hand, the Philippines stands to save from USD100 million to USD140 million (PHP5.69 billion to PHP7.96 billion) annually from operational improvements.
ADB also underscored priority mechanisms for the Philippines to unlock opportunities in building a solar PV manufacturing industry.
It recommended that the government should further enhance the ease of doing business in the country by designating zones for PV manufacturing with conducive industrial and import and export policies, such as the Philippine Economic Zone Authority and reducing the complexity of the customs process.
To enhance the production factors, the report said the country should attract established solar manufacturing players to invest in local manufacturing facilities and facilitate on-the-ground transfer of operational excellence and technology.
Through the Commission on Higher Education, partnership with industry leaders is crucial to establish training programs to upskill workers.
The Department of Finance is also urged to reduce costs on operations through fiscal incentives and/or provision of resources, such as land, buildings or other infrastructure.
The Department of Energy should also push for accelerating investment in the expansion of grid capacity to enable higher penetration of renewables. (PNA)