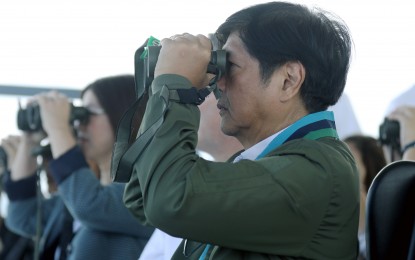 MANILA – President Ferdinand R. Marcos Jr. wants a continuation of joint military exercises between the Philippines and Australia.
In an ambush interview on the sidelines of the 1st Amphibious and Land Operations of the Indo-Pacific Endeavor 2023 (ALON) in Zambales Friday, Marcos said he is likely to discuss the subject once Australian Prime Minister Anthony Albanese visits the country in September.
"[C]onsidering that there have been so many events that attest to the volatility of the region. This kind of close strategic cooperation between countries around the region is extremely important," he told reporters.
The Chief Executive said exercises between Australia and the Philippines, participated in by around 2,200 troops, demonstrated how well the two states' troops work together, citing also that "this is a very large exercise."
"Again, the working relationship between our two militaries, and of course, the United States as well is, again, has been demonstrated and is something that we will continue to strengthen," he said.
Aside from military drills, Marcos also expects to discuss with Albanese "some new strategies, and some new ideas, agreements" on security and defense, among others.
"[W]e have many common concerns with Australia in terms of the region, and of course, we also have very many Filipino nationals in Australia," he said.
Marcos observed the 1st ALON war games at the Naval Station Leovigildo Gantioqui, Camp Artemio Ricarte in San Antonio, Zambales. It was aimed at revitalizing the capabilities of the Marine Amphibious Ready Unit and enhance the country's coastal defense capabilities through boost from its allies.
This event is focused on addressing gaps in combined operations and improving tactics, techniques and procedures to ensure the effective employment of all combat arms integrated through force-level command and control.
It is also intended to simulate a real-time scenario wherein the execution could be observed by evaluators and spectators.
Scenario used for the combined amphibious operation featured the Philippines and Australia working together with the help of American forces to retake lands captured by foreign enemy forces.
Participating military assets included the helicopter landing dock, HMAS Canberra, frigate HMAS Anzac, with the landing dock BRP Davao Del Sur.

Close air support was provided by the Royal Australian Air Force F-35A "Lightning II" aircraft, Australian Army M-1A1 "Abrams" tank and two Philippine Marine Corps (PMC) amphibious assault vehicles, with airlift support by Darwin-based USMC MV-22B.
Filipino and Australian troops conducted the amphibious assault exercise at Naval Station Leovigildo Gantioqui in San Antonio, Zambales.

"This exercise marks the second and final phase of amphibious action after the air assault exercise in Palawan earlier this week," Armed Forces of the Philippines (AFP) public affairs office chief Lt. Col. Enrico Gil Ileto said in a statement.

A total of 560 personnel from the AFP, 1,200 from the Australian Defense Force (ADF) and 120 support personnel from the United States Marine Corps (USMC) participated.

Ileto said this exercise is a result of months of planning and preparation by the AFP and the ADF with assistance from the USMC.

"The training exercise at Naval Station Leovigildo Gantioqui included pre-landing operations where the PMC and ADF force reconnaissance group were inserted via small boats to observe the beach landing sites," he said.

Close partners in security

The Philippines and Australia have expressed their commitment in "a peaceful, stable and prosperous region where all countries are free to exercise their sovereignty consistent with international law."

"We discussed the importance of all countries in the region exercising their agency in support of an Indo-Pacific region that is based on sovereignty, international law, and ASEAN Centrality," a joint statement by Defense Secretary Gilberto Teodoro Jr. and Australia Deputy Prime Minister and Minister for Defense Richard Marles read.

They said defense continues to make a significant contribution to the partnership between both countries.

"Under the Enhanced Defence Cooperation Program, we are working to broaden the scope of our cooperation and the complexity of our activities," the two nations said.

"Today (Friday) at Zambales, we observed joint amphibious activities which showed how far we have come to draw our militaries even closer together. Indo-Pacific Endeavour 2023 in the Philippines was supported by the USMC, which demonstrated the value of partners working together to achieve mutual objectives."

"We agreed on the importance of all states operating safely and professionally, while respecting and adhering to international law, particularly the United Nations Convention on the Law of the Sea, and we reaffirmed our strong support of the 2016 South China Sea Arbitral Tribunal Award," read the statement. (PNA)