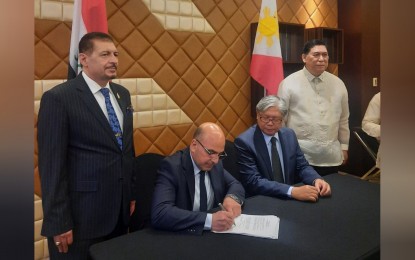 MANILA – Business groups from the Philippines and Iraq have signed a memorandum of understanding (MOU) to promote cooperation between the countries' private sectors.
The MOU between the Pampanga Chamber of Commerce and Industry Inc. (PamCham) and the Federation of Iraqi Chambers of Commerce (FICC) was signed on Aug. 30 in Pasay City on the sidelines of the 8th Joint Committee Meeting (JCM) between the Philippines and Iraq.
The document was signed by PamCham director Paulino Yusi and FICC president Heider Jasim.
"The objective of this Memorandum of Understanding is to formalize the sisterhood between the Pampanga Chamber of Commerce and Industry, Inc. and the Federation of Iraqi Chambers of Commerce to encourage, promote, and facilitate economic cooperation among the business communities to the mutual interests of both parties," the MOU read.
It added that PamCham and FICC will coordinate to establish and expand a business network that will facilitate business opportunities among the members of the two parties.
The business organizations identified sectors to pursue, including but not limited to trade, oil, construction, health, food and agriculture.
Jasim told the Philippine News Agency (PNA) they urged Filipino enterprises to look into the business of fish farming, as well as nursing and hospital management.
"Filipinos are very (well) known in the world (for) their experience and expertise in the field of healthcare," he said.
Jasim also invited construction players in the Philippines to partner with Iraqi businesses in building residential units in the Middle East country, as the housing backlog in Iraq reached 4 million units.
"They (foreigners) can do both—direct investment and partnering with a local business because Iraqi businesses know the rules," he added.
Meanwhile, the Embassy of Iraq in Manila Chargé d'Affaires Dr. Khalid Ibrahim Mohammed said the 8th JCM has opened discussions for Manila and Baghdad to pursue economic cooperation, including trade, banking and finance, industries, oil, agriculture, transport, air transport, construction and housing, health, communication, and development and planning.
"With the renewal of cooperation between our governments, Iraq aims to further strengthen its bilateral ties with the Philippines, whose diplomatic relation was established 48 years ago when the Iraqi Embassy opened in Manila in 1975," Mohammed said.
The Iraqi government has brought an 18-member delegation to Manila for the 8th JCM from Aug. 30 to 31. The delegation was led by Iraq's Deputy Minister of Health Khamees Hussein Ali.
The Philippines-Iraq JCM was on hiatus for 10 years. The last session was held in Baghdad in March 2013. (PNA)