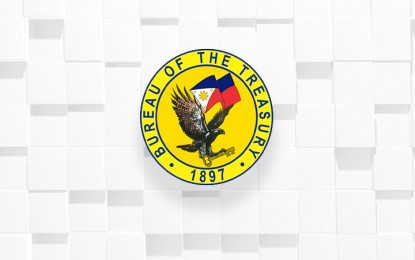 MANILA – The national government's (NG) budget deficit declined by 45 percent despite higher spending in July this year, the Bureau of the Treasury (BTr) on Thursday reported.
The BTr said budget deficit declined in July to PHP47.8 billion from PHP86.8 billion shortfall in budget a year ago "on the back of 33.4 percent higher growth in revenue collection versus the 16.22 percent increase in government expenditures".
This made the country in a better fiscal performance in the January to July 2023 period as the budget gap slowed down by 21.22 percent, or PHP161.5 billion, to PHP599.5 billion from a shortfall of PHP761 billion deficit in the same period a year ago.
In an e-mail, Rizal Commercial Banking Corp. (RCBC) chief economist Michael Ricafort said this would help reduce the need for more government borrowings and temper the increase in the country's outstanding debt.
Collection from agencies
Revenue collection improved to PHP411.7 billion in July, growing by 33.4 percent, or PHP103.4 billion, from July 2022. This was driven by higher tax and non-tax collections last month.
"The positive outturn for the month drove the YTD (year-to-date) collection to PHP2.3 trillion, reflecting an 11.58 percent or PHP235.7 billion increase over last year's comparable performance," BTr said.
Taxes accounted for the biggest portion of NG's collection at 88.74 percent and the remaining 11.26 percent were non-tax revenues.
Net collection of the Bureau of Internal Revenue (BIR) in July 2023 rose 38.37 percent year-on-year to PHP273.1 billion, after deducting PHP186 million tax refund.
Year-to-date, BIR collection increased by 12.21 percent to PHP1.5 trillion as of the end of July this year.
"Nevertheless, the continued economic/GDP (gross domestic product) growth amid the reopening narrative in recent months still also effectively increased the government tax revenue collections due to higher economic/tax base, especially on a year-to-date basis. However, this has been offset by lower individual income tax rates since the start of 2023 under the TRAIN (Tax Reform for Acceleration and Inclusion) Law in recent months," Ricafort said.
He said the intensified tax collection efforts of the administration based on existing tax laws are expected to be supported by the possible new taxes and higher tax rates under the proposed additional tax reform measures, including the proposed new taxes on junk food and higher taxes on sweetened beverage, value-added tax on non-resident digital service providers, and excise taxes on single-use plastic and pre-mixed alcoholic beverages, among others.
Moreover, the BTr also contributed to the NG's revenue collection in July 2023, as income from the national treasury climbed by PHP50.8 billion from PHP13.4 billion a year ago.
The BTr said it posted its highest monthly collection this year in July.
"BTr's collection for the seven-month period consequently rose to PHP143.8 billion, 22.4 percent or PHP26.3 billion higher than the 2022 comparable performance and has already exceeded the full-year target of PHP58.3 billion largely due to higher dividend remittances, income from managed funds and government deposits, as well as NG share from PAGCOR (Philippine Amusement and Gaming Corp.) profit," it added.
The higher collections from the BIR and the BTr offset the decline in the collection at the Bureau of Customs (BOC). BOC collection last month went down by 12.61 percent to PHP73.1 billion from PHP83.6 billion raised in July 2022.
On the other hand, BTr reported that non-tax revenue from other offices, including privatization proceeds and fees and charges, remained stable over the same period, which amounted to PHP12.4 billion.
"Meanwhile, the end-July revenue totaled PHP112.0 billion, increasing by 18.63 percent or PHP17.6 billion YoY (year-on-year) partly due to one-off remittances from PCSO (Philippine Charity Sweepstakes Office), DFA (Department of Foreign Affairs), and BCDA (Bases Conversion and Development Authority)," it said.
Spending
NG's expenditure performance in July this year increased to PHP459.5 billion from PHP395.4 billion in the same period in 2022.
Higher spending last month was mainly due to increased disbursement in the Department of Social Welfare and Development for its social protection programs, the Department of Health and Department of Agriculture for their banner health and agriculture programs, respectively.
Expenditure in the Department of Public Works and Highways for road network development program and the rail transport projects of the Department of Transportation also contributed to bigger NG spending last month.
"Total YTD expenditures of PHP2.9 trillion posted a 2.66 percent (PHP74.3 billion) growth over the spending performance for the same period last year," the Treasury said.
Likewise, primary expenditure last month increased to PHP396 billion year-on-year, allowing primary expenditure for the first seven months of the year to grow by 1.5 percent year-to-date to PHP2.5 trillion.
The NG also settled higher interest payment (IP) in July at PHP63.6 billion, resulting in an IP of PHP382.7 billion from January to July this year.
"Jan-Jul IP comprised 12.05 percent of the total expenditure, higher than last year's 11.06 percent. Meanwhile, IP as a percentage of total revenues inched up to 15.23 percent from 15.19 percent in 2022," BTr added. (PNA)