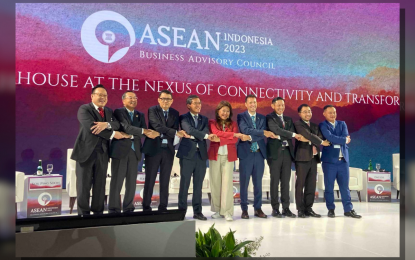 MANILA – ASEAN Business Advisory Council (BAC) Philippines chairperson Joey Concepcion on Monday said the country underscored the vital role of digitalization in the development of micro, small and medium enterprises (MSMEs) in the region.
In a statement, Concepcion, who is also the MSME Development Council vice chairperson, said the rapid growth of digital adoption in Southeast Asia bodes well for the region, but the growth must be inclusive and benefit MSMEs.
"We must enable MSMEs to use digitalization to their advantage," Concepcion said, adding that MSMEs should benefit from digitalization, as ASEAN is set to become the world's fastest-growing digital market driven by the expansion of its consumer market and the use of electronic commerce platforms.
He made the statement at the ASEAN Business Investment Summit in Jakarta on Sept. 3, which convened Southeast Asia's biggest technology players, key stakeholders from leading multinational companies, global financial institutions and the public sector.
Among the focus of the meeting include financial technology, electronic trade and cross-border facilitation.
"The power of digitalization is there; we just have to use it. It's time that we really focus on the objective of greater prosperity, especially for those at the bottom of the pyramid, using whatever tools we have," he said.
The Go Negosyo founder also proposed a memorandum of understanding among stakeholders in ASEAN to focus the digitalization efforts, especially in developing MSMEs and the agriculture sector.
Over the weekend, the ASEAN launched the world's first region-wide Digital Economy Framework Agreement (DEFA) during the ASEAN Economic Community Council meeting.
The DEFA targets to empower businesses and stakeholders among ASEAN member states through accelerating trade growth, enhancing interoperability, creating a safe online environment and increasing participation of MSMEs.
Topics in the DEFA include digital trade, cross-border e-commerce, cybersecurity, digital ID, digital payments and artificial intelligence.
Trade Assistant Secretary Allan Gepty said the launching will commence the negotiations on DEFA among ASEAN members.
"When it comes to talking about digital, we can't stay away from talking about e-commerce and, of course, technology. And this is also seen as a big opportunity for micro, small and medium enterprises because this is their chance to basically be competitive in the market," Gepty said in Filipino during the Laging Handa public briefing Monday.
The new framework is expected to unlock a potential of USD2.7 trillion digital economy in the region by 2030. (PNA)